Day 4 of our Think Chair Review is here. Let's hear what Cyndi had to say about her second day with the Think Chair:
I work part time (Monday, Wednesday, and Friday to be exact), as well as some hours from home. So I was really glad when it was Wednesday and I could sit in the Think Chair again. However, I was disappointed when I arrived at my office and Mark Rico had "borrowed" the chair on Tuesday. He brought it back right away though. The Think Chair was just as comfortable the second day as it was the first.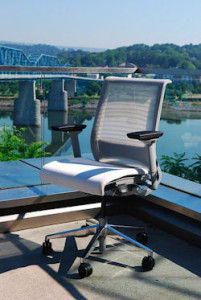 I really enjoy the adjustable recline and arm rests. The arm rests adjust closer to your body or farther away as well as angling from left to right. This makes the Think Chair very conforming to your preferences. As I was sitting in the chair I was really wishing I had a comfortable chair at home to sit in while I work. The chair and desk I have at home are very uncomfortable and as a result I sit on my bed and work on my laptop when I work at home. When I work for an hour or two at a time sitting on my bed, it becomes very uncomfortable too. I seriously need a new desk and chair at home.