We're back to Mark in Day 3 of our Think Chair Employee Review. He seemed pretty happy to once again sit in the Think Chair.
The back of the chair's got this system of independent cables that Steelcase calls the "Liveback" system. What that means to me is that while I've been sitting here, sort of rocking in the chair, the back has been moving to accommodate me as I move. It's not a padded back, except for the cloth covering the cables, but it somehow gives the impression that it's solidly cushioned. That, combined with the cushy seat, makes the overall sitting experience a pretty luxurious one. I spent a lot of time at my desk today, and at no point did I get uncomfortable. I just had an urge to get up and move around every so often, as is normal for me.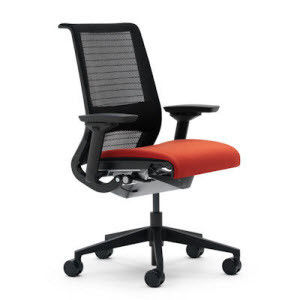 The thing that sets this chair apart is its slim, modern profile.Yes, it's cushy. Yes, it's modern. No, it's not clumsy and overstuffed. No, it's not overbearing. It's more like my favorite thing about my office, rather than just office furniture. The one I'm using is white back/white seat and it's super crisp and attractive.