Next up in our Think Chair review, Cyndi! It was a little difficult convincing Mark to share the Think Chair, but with the promise of future sits he was convinced to let Cyndi see what she though about the Think. Here's what she said: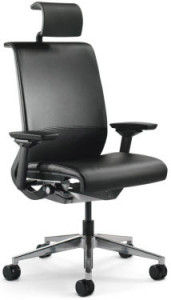 I was very excited when I was asked to "test drive" the Think Chair by Steelcase. I am not a woman of many words so I was concerned that maybe I was not the best choice for this "test drive" and analysis, but nonetheless I agreed.
When I first sat down in the Think Chair I immediately noticed the very cushioned and comfortable seat. I also noticed how comfortable it was when I leaned back. You see, I ruptured a disk in my back a few years ago so there aren't too many chairs that are truly comfortable. So I need a chair that has great lumbar support and helps my back relax while sitting. The Think chair does have a great lumbar support which really helps my posture while sitting, not one of my strong points. I also noticed the dial on the right side that allows the chair to recline more or less, depending on my preference. The chair I normally sit in has a lever to allow the chair to recline slightly or not recline at all. So the dial on the Think Chair gives me more options depending on the way I feel for the day. I am a woman and yes, I change my mind often. I am looking forward to my second day in the Think.
Two days, two glowing reviews. Only time will tell if the Think Chair continues to impress. Check back tomorrow for more thoughts from Mark.