So you enjoyed reading about Matt's experience with the Leap Chair? Well, in preparation for the upcoming Steelcase semi-annual sale we wanted to test out the Steelcase Think Chair. We split up the arduous task of sitting in this amazing chair between Mark (the barker) and Cyndi, our uber-accountant.
Today I started a week-long test of the Steelcase Think chair. Steelcase isn't really the first brand many people think of when they're considering modern furniture, or even seating for their home offices. However, the Think pretty well demonstrates that Steelcase doesn't just make conventional office furniture; it's beautiful to look at, especially the one I'm sitting in – white seat, white mesh back (stunning) – and super comfortable. The real question at this point is how it performs every day.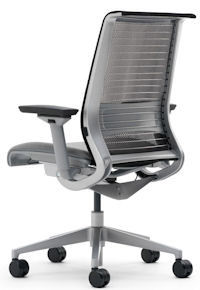 The first thing I did was read the little how-to-adjust-the-chair tag that came with the Think. It's only a one-page diagram that tells you what the knobs do, and it's really all that's necessary. Think is a very intuitive chair to adjust. The lever thing (there's only one – simple) is for adjusting the height. The knob thing (there's only one – again, very simple) is for setting the tilt limit, and there are 4 settings. Under the front of the seat, there's a bar very similar to the bar you'd find under the front seat of your car, and you lift it and scoot the seat forwards or backwards to increase or decrease the seat depth. There are about 2 inches of adjustability for the depth – which turns out to be enough for me, and I'm 6'1″.
The armrests are by far the most fun function. They move in/out in front and back, independently, so that you can find the best position without pressing buttons or being confined to a preset location. Throughout the day, as I've gotten used to sitting here, I've gotten comfortable enough to just move the armrests with my elbows as I change position.
More tomorrow, but my first impression is that I like the way it feels almost as much as I like the way it looks, and it looks incredible. This is the kind of chair that I want to have in my home office and just "happen" to leave the door open, hoping my guests will see it as I purposefully lead them past the doorway …
Stay tuned to see what Cyndi has to say about her experience with the Steelcase Think Chair tomorrow!