A unique three-story home situated in the up-and-coming Southside area of Chattanooga, TN.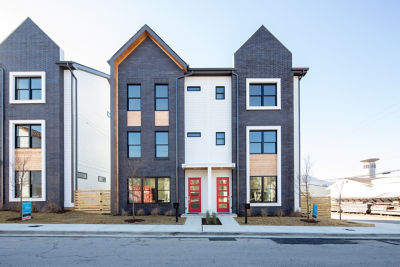 If you're familiar with Chattanooga then you know that new homes, condos, and apartments are popping up throughout the city. The East Main home was recently built in the up-and-coming Southside area and features a unique three-story facade with a mixture of brick and wood.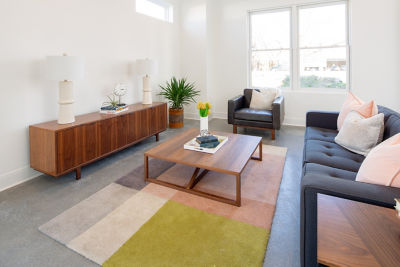 For the interior, our designer tried to capitalize on the natural light provided from the well-placed windows. She mixed warm wood tones with soft pastels with the idea in mind of the interior creating a welcoming environment when entering. One will notice the occasional pop of yellow throughout the home adding a bright element to coincide with the softer shades.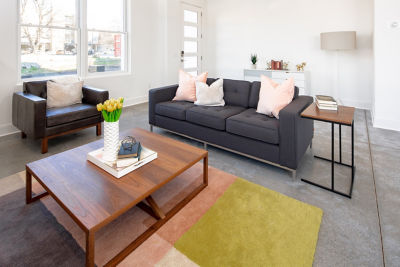 Products Shown: Embassy Chair by Gus Modern, Jane Sofa by Gus Modern, Tobias Network Table by Gus Modern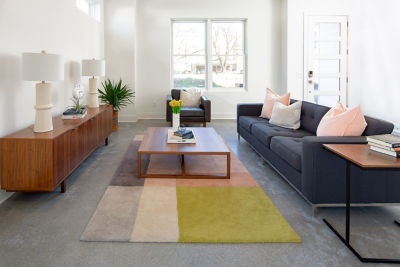 Products Shown: Belmont Credenza by Gus Modern, Element Rug by Gus Modern
Products Shown: Dang 1-Door, 3-Drawer Console by Blu Dot
The faint grey of the dining set and the white counter stools paired perfectly with the minimalist design of the kitchen counters, cabinets, flooring, and fixtures. Most importantly, the furniture pieces of the kitchen and living room didn't clash with the connectedness of the space and simply acted as a continuation of both rooms.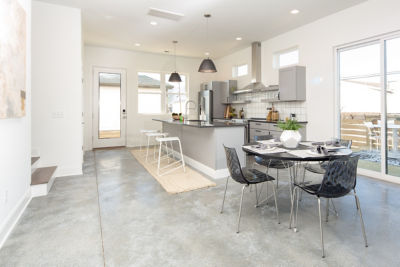 Products Shown: Ready Stacking Counterstool by Blu Dot, Ice Chair by Connubia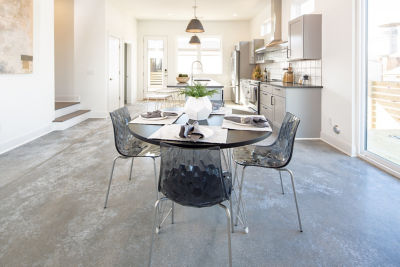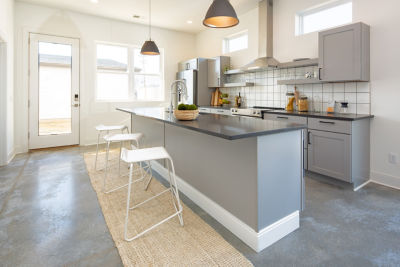 Continuing to the upstairs, both rooms share a neutral pallet. Our designer wanted to continue showcasing the beautiful wood tones and cool pastels that play off of the incredible architecture while creating a space that feels like home. Small elements of leather nurtured the softer shade of the wood flooring and maintained a perfect fit with the pallet.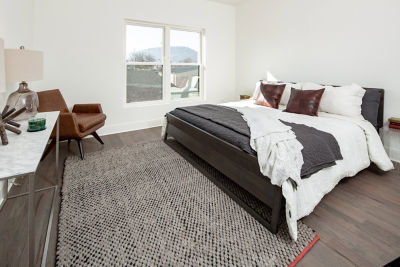 Products Shown: Woodrow Bed by Blu Dot