SILQ Chair by Steelcase Review
by Christian Roemer
I'll preface this review with some brutal honesty: when I first heard about the SILQ chair, I thought it was all pomp and little circumstance. From the dramatic initial announcement to the scant interim details, I thought that SILQ would just turn into another random office chair that some people would buy. I figured that SILQ would be fine. That's it. I thought it would be fine.
But now I know the truth. SILQ is rad.
In the furniture world, it's easy to get a little bit disillusioned. I've been working at Smart Furniture for over 6 years, and I've seen "the next big thing to revolutionize EVERYTHING" more times than I can count. That's OK. I'm in marketing, so I understand the schtick. You have to generate hype somehow, but I refused to be bamboozled again by some slick talking product development team.
Most of the time, those "revolutionary" products fall on their faces, and instead of becoming the new paragon of (insert product category here), they just line up in the seemingly endless cavalcade of places to put your derriere while you're working in front of your computer. Don't get me wrong, I love a good office chair. But how many ways can you really reinvent the wheel?
Well, SILQ showed me that you can do it at least one more way.
Unboxing
I love unboxing stuff. There's something special about slicing open packing tape and watching some new shiny thing manifest from the cardboard underneath. I'm basically like a kid on Christmas morning every time we get some new goodies to test out in the office. So are the perks of working for a furniture store.
The chair looked awesome from the moment that we slid it from its brown protective casing. Complete with fixed-height arms, a seagull base, Cogent Connect Wasabi fabric, and a brushed aluminum height adjustment lever, the chair is sleek. It looks like the chairs that Star Trek imaged we would use in the future. It's lightweight, easy to roll, and every part of the chair looks purposeful.
I like the cut of this chair's jib.
Sitting Experience
Again, I have to disclose that, prior to receiving this chair, I was dubious that it would be comfortable at all. I usually sit in an Aeron chair, which has about as many knobs and buttons as an Apollo rocket. Twist the tension here, move the lumbar there, click the recline here—the Aeron is an endless sea of customization. And it does that extremely well. I love my Aeron chair with its bells and whistles and personalization. How could I ever expect to use and be comfortable in a chair that only has a single height adjustment knob?
Well…
From the first time I sat in the chair, I was converted. The skies opened, and I heard angels sing. When Steelcase talked about how the SILQ chair would provide the supportive benefits of a fully ergonomic chair without the need to constantly tweak myriad components, I didn't believe them. At all. After sitting in the SILQ chair, I was proven wrong. I wrote a lengthy, contrite letter to the CEO of Steelcase offering my full apologies regarding my disbelief, and I undertook a silence pact for my penance. Those things didn't actually happen, but I did fully admit that I was wrong.
There, I said it. I was wrong.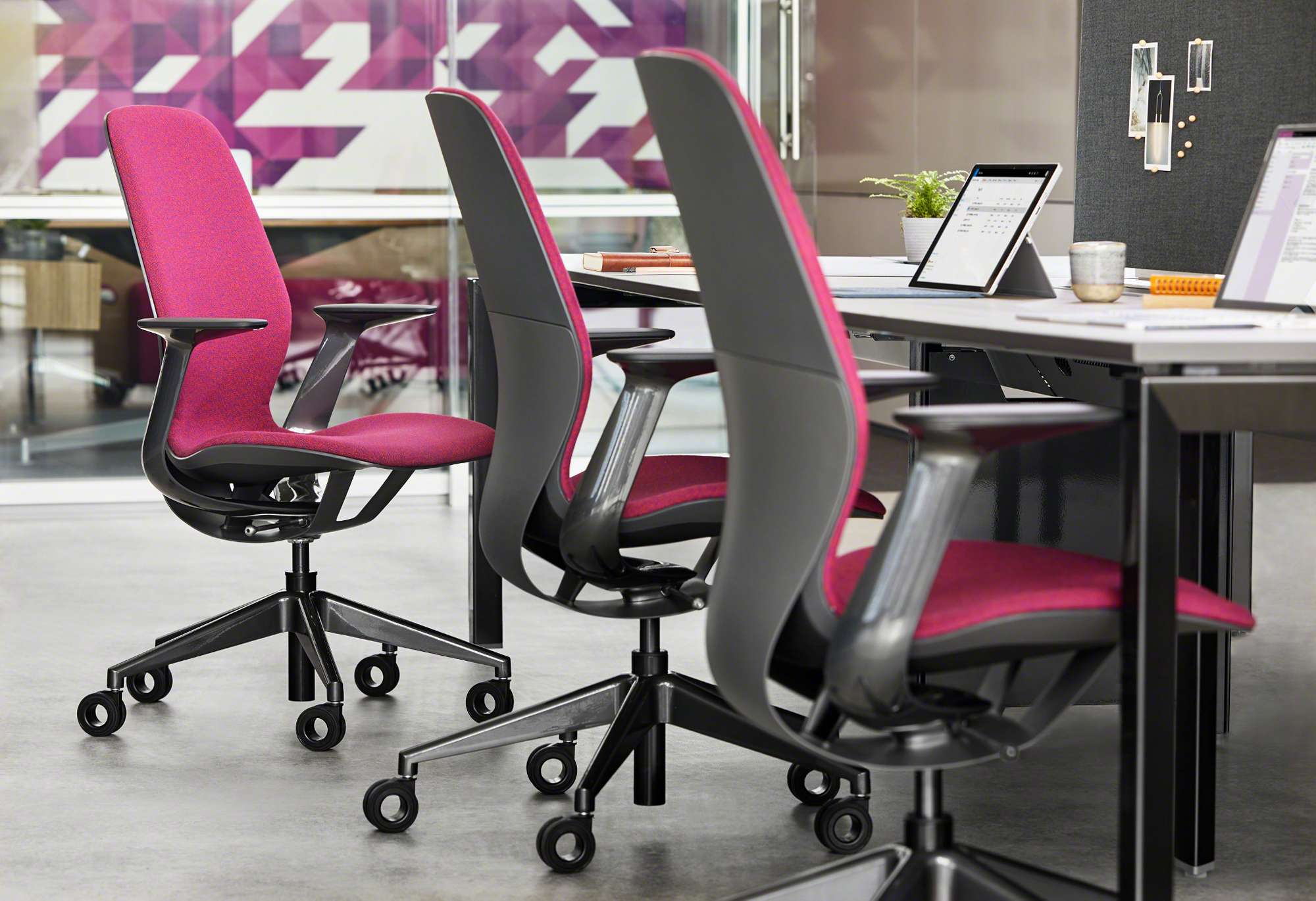 The SILQ chair is awesome, and Steelcase somehow created a supportive, ergonomic task chair that makes me feel like I'm floating in air, and I don't have to twist any knobs to get there. Better yet, I don't have to worry about anyone else swooping in to "just try it for a second, bro," only to return the chair to me a day later with every adjustment finagled in the worst configuration possible. The SILQ chair is just the SILQ chair, and it conforms itself to me. I don't have to work my way into the chair with tons of tinkering and tapping. I just sit in it. What a beautiful concept.
Final Conclusion
If you want to emancipate yourself from complicated office chairs of yesteryear, SILQ is the ergonomic task chair of the future. Its frame is surprisingly supportive for being as sleek as it is, and it's incredibly responsive. I was expecting to pan this chair because I'm a cynic, but SILQ has converted me into a believer.
Starting at $642, this chair is a bargain, and if you work in a shared office, you won't find a better chair to share for the price. It also looks great. 9/10, would definitely recommend to anyone.
If you're itching to get your hands on one of these incredible chairs for yourself, go ahead and shop now!