Located in the Southside neighborhood of Chattanooga, our design team took on the Sidewalk Citizen staging. This three-story unit can be found next door to the previous East Main Home project. Contrary to the styling of the East Main home which features vivid pops of color in the furniture and decor, this project touches on more of a masculine feel.
Products Shown: Atwood Sofa by Gus Modern, Coco Tables by Blu Dot, Elements Triple-Width Media Cabinet by BDI
It isn't to say that masculine design is unable to appeal to both sexes, especially in this space. Rather than the stark design or bulky furnishings that often comes to mind, this space focused attention on more modern pieces with clean lines.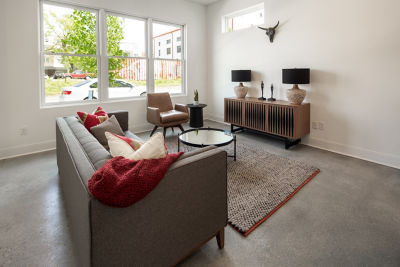 The natural light of the home created an ideal environment of contrast to include darker elements of furniture. Mixing grays, browns, reds, textures, and various finishes kept the living space welcoming, warm, and comfortable.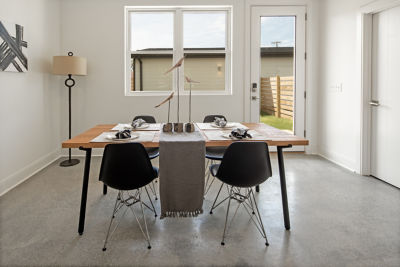 Products Shown: Eames Molded Fiberglass Side Chair with Wire Base by Herman Miller
The neutral palette and concrete flooring continue throughout the home and into the dining room and kitchen. A wooden table created a focal point of richness in the room while surrounded with the warmer hues of gray and black. White stools tied the kitchen together against the backdrop of the black cabinets and white countertops.
Products Shown: Ready Stacking Counterstool by Blu Dot
The loft space can be used as another living area and our design team wanted to ensure that the space highlighted the opportunity for mixed-use. Modular furniture is the perfect solution when looking for a space that needs flexibility for arrangement.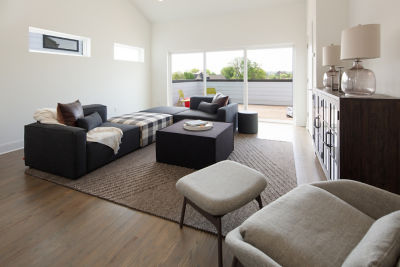 Products Shown: Mix Modular Sectional by Gus Modern, Mix Modular Ottoman by Gus Modern, Hidden Treasures Trolley Door Cabinet by Hammary, Field Lounge Chair by Blu Dot, Field Ottoman by Blu Dot
Brighter shades of blue and green don't take away from the masculine overtones but instead, create balance against the dark wood of the bed frame and side tables. The marble top of the console table and the transparency of the side chair meld with the neutral tones of wall and flooring.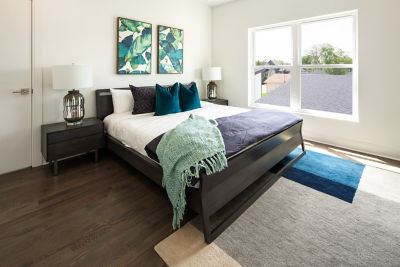 Products Shown: Woodrow Bed by Blu Dot, Element Rug by Gus Modern