For many of us working from home is looking more like a permanent situation instead of a temporary solution. Beginning in March 2020, it was important for individuals working from home to cobble together a workstation that was functional for the short-term. After six months, seeking a permanent home workstation designed to support long hours is a new focus.
While it may not be possible to replicate the amenities of the offices provided by employers, it is definitely possible to create a long-term work from home solution that inspires our minds and supports our bodies. In addition, this workspace can be designed and installed quickly and economically. Identifying your personal priorities is the first step on the path of creating the space that allows you to do your very best work.
If you are one of thousands of people facing the proposition of permanently working from home, here are some things to consider as you rethink your home office space.
Your Budget – What is the budget for the office of your dreams. When it comes to home office furniture, there exists a good ergonomically sound alternative for every budget. It might be useful to create a list of must have items for your home office and assign a budget to each item. This will help you narrow your search and make sure you purchase the best product within your budget range. It will also give you the ability to shift your budget based on the cost of each individual item. Just below you will find our favorite and affordable task chairs.
The Cadence Chair – by The Smarter Office
The Torch Chair – by HON
The World One Chair – by Humanscale
The Verve Chair – by The Smarter Office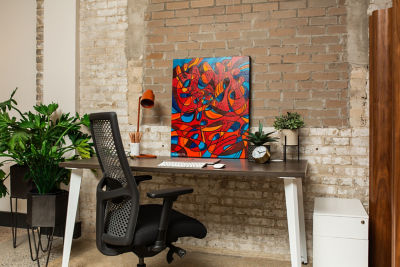 Pie In the Sky – Ignoring your budget, do a little research and make a list of your favorite products and the attributes that make these products great. Many manufacturers that have great brand recognition also have some of the highest prices. However, if you understand the core features of these brands products, you can find similar products that are much less expensive. Understanding why you want a specific product is the best way to get a great deal.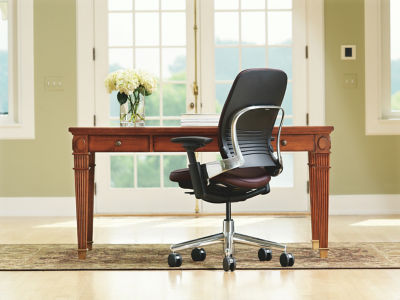 Your Style – If your work routine is flexible, style becomes an important part of your home office purchasing decisions. Consider your workspace. Do you have a dedicated room for your home office or are you working with a space in your home that is a part of a shared family workspace? Are color, shape, and size part of your vision? Do you favor mid-century modern or something a little more contemporary? With as many great office furniture manufactures as there are today, with a little time, you can find exactly what you are looking for that fits your budget.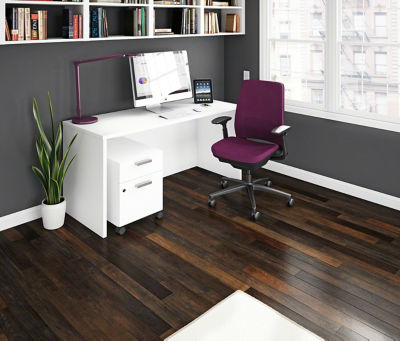 Ergonomics – For many, ergonomic design is an absolute requirement when it comes to office furniture. And why not? When it comes to long hours of stationary work ergonomic support promotes productivity and longevity. Just because you are working from home does not mean you have to sacrifice comfort. Fortunately, ergonomic design no longer implies a huge price tag.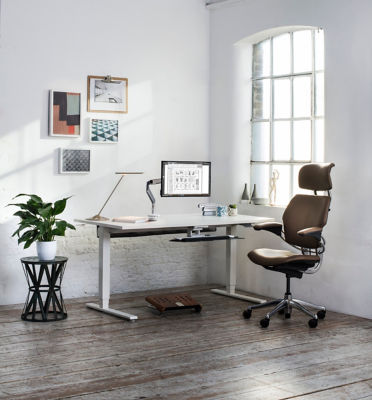 Your Values – Like many sectors of our economy, furniture manufacturers are very diverse. Every company has a story whether they tell it or not. Some companies make their products here in America, while others import their products from Asia. Some companies support Habitat for Humanity and others donate products to the Wounded Warrior Project. Humanscale, a pioneer of ergonomic design, even makes a great task chair out of recycled nylon fishing nets! If supporting like minded institutions is an important part of your purchasing process, don't worry, there is a furniture producer just for you. *Please see core values list below.

Your Space – Believe it or not, there is a difference between office furniture and home office furniture. Good home office furniture is designed with the eccentricities of home spaces in mind. With a little research, you can get very creative with your home workspace without sacrificing ergonomics or lasting quality. A comfortable workspace is about a thoughtful selection of tools, not square footage.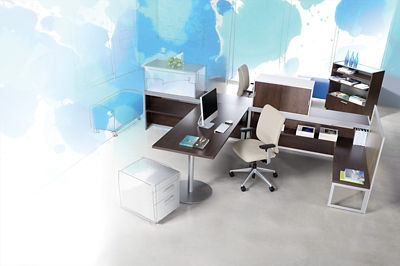 You – Last but not least, consider yourself. It is important to take into account your height, weight, and body type especially when selecting your desk and chair. The backs of most task chairs are designed to support the spine and accommodate the breadth of the shoulders. The length of the seat should correlate with the length of the femur. In fact, some seats even unroll to support longer legs. If you are shopping for a height adjustable desk, make sure you understand the limits of the adjustability. If you are on the tall side stand as you would if you were working and measure the distance from your elbows to the floor. Your desk should adjust to this height. If you are a little shorter, sit in a comfortable position with your feet on the floor and measure the distance from your elbows to the floor. The low end of the adjustable desk you select should lower to this measurement (at least).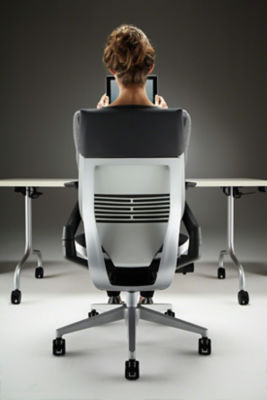 As we begin to see our home workspaces evolve from temporary to permanent, we also see manufacturers and furniture sellers move to meet consumer needs. Right now you can find great deals on the office tools that are perfect for your needs. Investing in your home office is also an investment in your home and your health. Take the time to put all the perfect pieces in place so you can do your very best work.
Core Values