Sectionals and small spaces just don't mix … right? Wrong. For so long, we have all complied with the design idea that large furniture pieces will just clutter an apartment. But it is time for us to embrace change because sectionals might just become your small space go-to seating arrangement after this blog post.
How Can a Sectional Work in my Small Space?
Here's the scenario: you've moved in to an apartment. The living space has two windows and shares a floor plan with the dining area. You visualize hosting small gatherings of friends and family so you know you'll need an abundance of seating. Your solution: a small sofa or loveseat combined with side chairs with the addition of a couple of tables and accents. Guess what? This combination of furnishings actually clutters your space. While a sectional might sound like an intimidating idea for a small living room, it is the solution you've been searching for.
1. Declutter: A sectional provides the same number of seats as a loveseat and two chairs. You're streamlining your living room seating by rolling it all into one. Additional plus: when you are the only one home, sectionals allow for optimum lounging.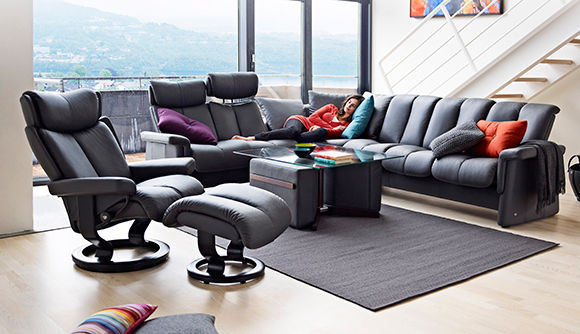 Legend Sectional from Stressless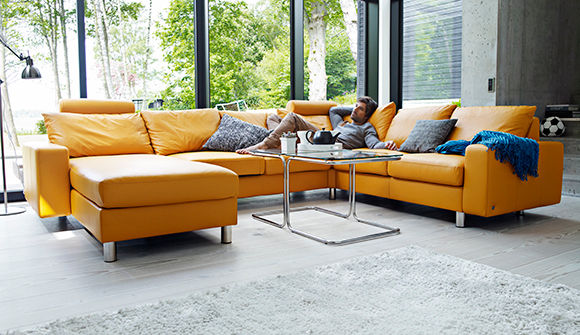 2. Define: Your sectional can help define your space as well. So if you have a joined living/dining area, simply position your sectional to allow for two separate areas.
3. Illusion: Having one large piece can give the illusion that your space is bigger than it is. Fewer things on the floor = more perceived floor space (for things like Bonsai trees).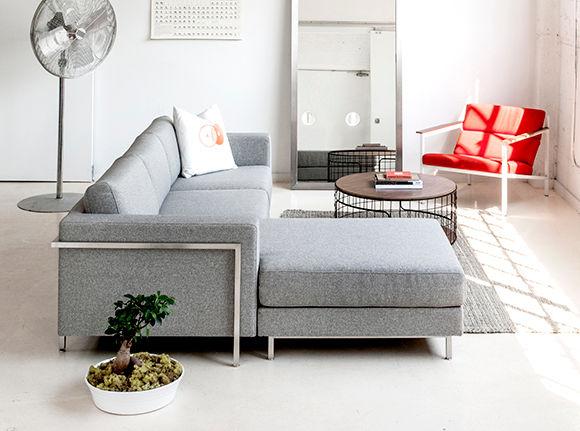 All in all, a sectional in a small space is comfortable and functional. Don't rule it out while creating your floor plan – no matter the size of your home. Keep in mind that adding several small pieces is far more limiting. You may think you are creating more space when actually you are disrupting the flow of your home.
As you re-think your living area, consider the sectional. You'll have more room to lounge comfortably or spin and twirl with all that free space. Check out some of our favorite sectionals that are on SALE right now!
Our Best Selling Sectional: The Jane Bi-Sectional
The Apartment Friendly Sofa: The Harbord Loft Bi-Sectional