We've been addressing common office problems, and in this post I'll show you how to have an ergonomic office. It's a challenge that those of us who work at desks face every day. How do you get as comfortable as you can while sitting in one place for hours at a time?
There is a whole industry (or sub-industry, I guess) that has resulted around the fact that we need specialized tools to help us stay comfortable at work. Ergonomic office chairs, keyboard trays, and monitor arms make up the majority of those tools.
Knowing what to start with can be a challenge, so here's some quick advice about which tools help the most – and how they can be implemented well.
Ergonomic office tools
Clockwise from top left: M2 Monitor Arm | Flo Monitor Arm with tablet mount | Flo Monitor
Arm, extended | Herman Miller Keyboard & Mouse Support | Aeron Chair
Monitor Arms
Of the ergonomic tools we're talking about, the monitor arm was the last to be invented. (After all, trying to hoist one of those huge tube monitors from the early '90s up on a monitor arm would be a little like trying to plug a dam with your finger. Might work for a little while, but it's doomed to fail.)
Monitor arms have two jobs:
1. Raise your screen up to eye level so your neck doesn't have to strain all day. The top of your screen should be just above your eye level.
2. Move your screen forward so it's close enough. With arms extended, you should be able to touch the screen with your finger tips. No closer, no farther.
One huge benefit of a monitor arm – especially one that holds two screens – is that it clears up additional space on your desktop. In another post, we focus on organizing your office. Getting a monitor arm will go a long way to help you reach that goal. In my mind, this is a must-have tool if you find yourself hunching over and looking downward at your screen all day.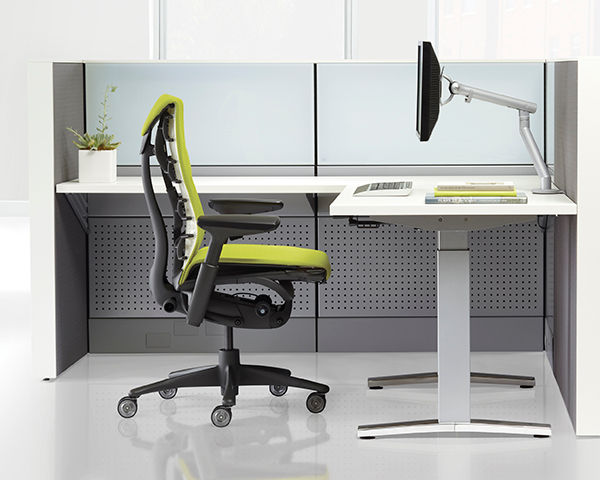 Embody Chair | Flo Monitor Arm
The Embody Chair and Flo Monitor Arm are a good tandem to make your office more ergonomic. Especially comfortable for people who sit in a leaned-back posture most of the time, Embody flexes to allow you to move easily while you sit. When combined with a monitor arm, it results in a very natural position for using the computer. How do I know? I sit in an Embody and use a monitor arm and I'm very comfortable. This brings us to our next category of ergonomic office tools….
Ergonomic Chairs
The first of these three tools to be invented, the ergonomic chair has a longer history than you might expect. First invented in 1968 by a German named Wilfred Dauphin, it had only two adjustments: back and seat height. As you know, by the advent of the Aeron Chair in the 1990's we've come to expect multiple incremental adjustments.
For the most ergonomic posture, we suggest adjusting your task chair so that:
1. Your thighs are parallel to the floor
2. Your knees are at a 90 degree angle
3. Your arms rest on the armrests at a 90 degree angle to keep pressure off your shoulders (I'm a hypocrite here – I ignore this one all the time)
4. Your legs are supported by the seat, but circulation isn't restricted by too much chair-edge pressure
5. Your left ear is at a 27.39 degree angle to the back of your co-worker's head (I also ignore this rule)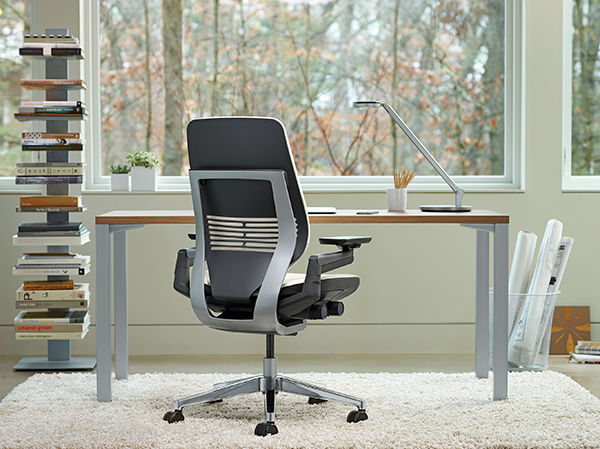 Steelcase GESTURE Chair | Dash Mini Task Light
The GESTURE Chair is the newest and most exciting offering from Steelcase. Its arms adjust inward and outward and upward to a greater degree than any other task chair. It's meant to support your ever changing postures when using today's technology, meaning those who work using multiple devices (including laptops, mobile devices and tablet) during the day. GESTURE's flexible arms move to support your elbows when texting, while working on an iPad or tablet, or leaning back to talk on the phone. I've sat in one and was favorably impressed by the functionality of its arms.
Most useful for: frequent users of tech gadgets.
Task Lighting
You can have your computer screen at exactly the right level, and your chair adjusted perfectly. But if you don't have good lighting and can't see items on your desk well enough you'll still end up with a sore neck and eyestrain. Ask me how I know.
The solution is the easiest in this entire post. Get a task light. Doesn't matter if it's a dedicated "task lamp" or just a table lamp you like. As long as it provides enough light to offset the brightness of your computer screen, and as long you can see things on your desk well, you're set. Though most of these lamps are both well-designed and super-functional, I have a few design favorites, and a few functionality faves.
Design-oriented Task Lights:
1. Brazo Desk Lamp This is a honey of a lamp. Whoever designed it will have much good karma.
2. Horizon Desk Lamp Linear, simple, and modern. I love it.
3. Pixo Desk Lamp Looks like its name sounds. It's hi-tech and would fit well in any clean modern setting.
Function-oriented Task Lights:
1. Link Clamp Lamp Clamps to any flat surface, and is ultra-adjustable with LED light.
2. Element Disc Light LED light without the multiple-shadow effect – and it's crazy adjustable.
3. Mosso Table Lamp Warm or cool LED light, adjustable, and neat touch-sensitive on-off switch.
Keyboard Trays and Footrests
In my opinion, these are two of the most under-appreciated ergonomic office tools. Here's how to know if you would be benefited by a keyboard tray or footrest – or both.
You might need a keyboard tray if:
1. You have shoulder pain
2. Your wrists are fatigued after a day at the computer
3. You need space on your desktop to look at papers as you type
You might need a footrest if:
1. Office chairs are too tall for you when the seat is high enough to give you a comfortable typing position for your arms
2. You need to stretch out your legs under your desk
3. The floor under your desk is covered in fly paper
Clockwise from top left: Humanscale 6G Keyboard Tray | Humanscale Diffrient World Chair
(yes, that's how you spell "Diffrient") | Humanscale Foot Machine FM300
Humanscale makes some of the best ergonomic office gear on the planet, and if you're looking for variety of choice that's a good place to start. When a footrest and keyboard tray are used in conjunction with one another, the result is generally that you're more rested at the end of the workday. It's nice to drive home without that pesky crick in your neck.
Adjustable Desks
In recent years, it's been pretty well established that sitting too much can contribute to health problems (if you click on that link, read the footnotes – it's a well-researched opinion article). And that's not even just talking about "down the road" health problems – we're talking about a quick turnaround from healthy to less healthy. Standing up at work is one good way to address the potential long-term detrimental effects of a sedentary lifestyle.
There are two types of adjustable desks. One type – the vastly more prevalent type – is the height-adjustable desk. This is the go-to style for workers around the world who have back problems and can't (or don't want to) sit for long periods of time. And as it turns out, there is a wide range of desks within that category – from the $600 Adapt Height-Adjustable Table to the $4,600 Steelcase Walkstation, which incorporates a treadmill.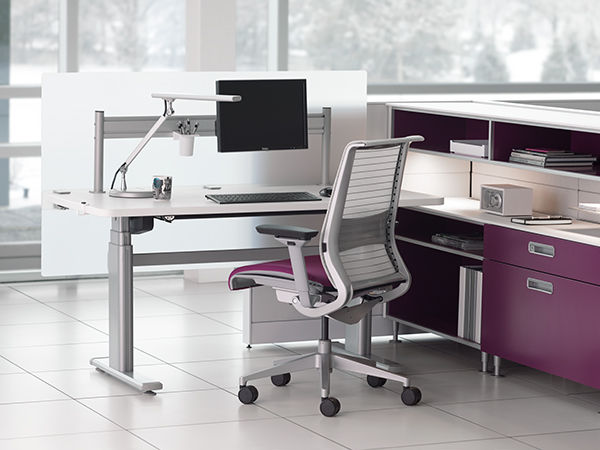 Steelcase Think Chair | Desk not available (equivalent: Steelcase Airtouch Table or HON Systems Height Adjustable Table)
The second type is the more recently developed depth-adjustable desk. The Envelop Desk, for example, features a top that slides toward you as you sit. It's designed to work best with the Embody Chair, which claims to offset many side effects of sitting all day. The chair's leaned back posture is said to be health-positive. The Envelop Desk helps you to use that posture to its full advantage – without the need for a keyboard tray. Although the jury's still out on that claim, I can say that it's comfortable and has helped my back. I'm not sure about my blood pressure or blood sugar levels.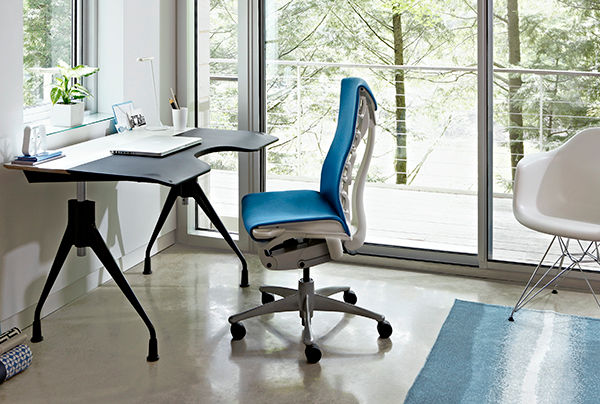 Herman Miller Envelop Desk | Embody Chair | Eames Molded Plastic Armchair (not ergonomic)
Whether you choose the height-adjustable, depth-adjustable, or traditional desk style, the best way to stay healthy is to stay active.
Comfort-Focused Chairs
When the workday is over (or when we need to keep working through the evening), it's nice to have options for a more laid back work style. While not strictly ergonomics, these options are like ergonomics for your brain. Chairs like the Coalesse Hosu Lounge Chair and Steelcase Leap WorkLounge make taking work home a lot more comfortable.Steelcase Leap WorkLounge (comfortable cousin to the highly ergonomic Leap Chair).
At the end of the day, you want to be comfortable, with no residual muscle tension. That's not always possible. However, if you use the right ergonomic office tools you'll be giving your body a much better chance to work in a less stressful way. It's all up to each individual's preferences. And with today's wide range of gear, your power to choose has never been greater.