Why is a design trend that originated in the 1940's still popular today? The mid-century modern style is timeless and classic. No other design style has proved itself quite like mid-century modern. With its sleek lines, natural curves, and contrasting elements, this is no trend — it's a statement promoting style and history.
The Beginnings
The phrase "mid-century modern" was introduced in Cara Greenberg's Mid-century Modern: Furniture of the 1950's and has been used to describe the unique style ever since. Influenced by the International and Bauhaus design movements, designers such as Charles and Ray Eames, Eero Saarinen, and George Nelson created furniture designs inspired by nature. The Eames Lounge Chair and Ottoman by Charles and Ray Eames is still one of the most popular mid-century modern pieces today.

The Appeal
1. Eames Lounge Chair and Ottoman
We already mentioned this one above, but it's a mid-century modern staple for any home or office space! The Eames Lounge Chair and Ottoman is the ultimate lounge chair for your living or sitting room.

2. Nelson Marshmallow Sofa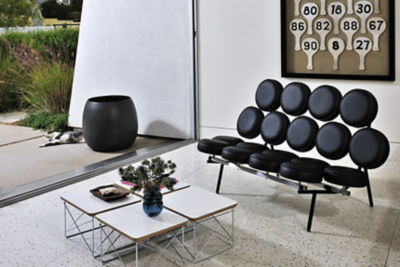 Designer George Nelson, referenced above, designed the Nelson Marshmallow Sofa for Herman Miller in 1956. As you can see, mid-century modern design never goes out of style. This sofa comes in a variety of colors and fabrics to fit your space perfectly.

3. Womb Chair and Ottoman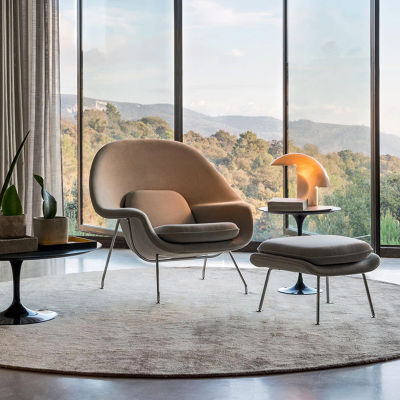 Designed in 1948, The Womb Chair and Ottoman were created especially for Knoll by Eero Saarinen. We love the simplicity of this chair and how flexible it can be. Sold in several different colors, this chair and ottoman will seamlessly integrate into any room.

4. Woodrow Bed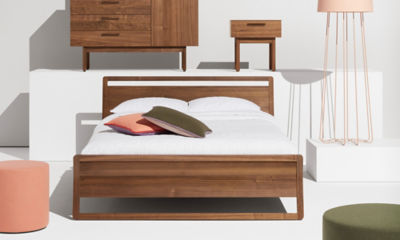 Organic, wood beds like the Woodrow Bed by Blu Dot are very in right now and will add a natural texture to your bedroom or guest room. To get on board with 2020 design trends, try the lighter shade of walnut for a beautiful contrast against a white or dark-colored wall. Two Nelson Cigar Lotus Table Lamps in walnut on your nightstands will complement the Woodrow Bed beautifully.

5. Thompson Dining Chair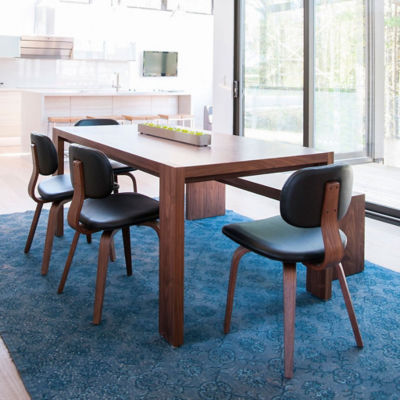 The Thompson Dining Chair by Gus Modern definitely makes our favorites list! We love this chair in black or white and are obsessed with its oak accents. These chairs gathered around the Wynchwood Dining Table in blonde ash would be the perfect entertaining combination.

Please let us know if we can help you select your next mid-century modern piece or answer any questions you may have for us!