If you haven't heard of MASHstudios before, you're missing out. Designers for some of the biggest companies in Silicon Valley, MASHstudios custom fabricates some of the coolest office furniture in the world.
Bernard Brucha, MASHstudios' lead furniture designer, was kind enough to answer some questions that we at Smart Furniture had about some of his amazing office designs. From Uber to Google, MASHstudios has built custom furniture for some of the biggest companies in the world. With a penchant for simple and natural designs, every piece of furniture that Bernard Designs is meant to be functional, beautiful, and durable. We were able to pick his brain for some things that he keeps in mind for all of his designs.
Learn about what goes into designing a custom office with one of the best-renowned designers in California.
Many of your designs use hefty proportions of natural wood. What is it about natural wood that makes it a central component to your designs?
We strive to use the most eco friendly products in all of our manufacturing. We use durable, long lasting products. Solid woods can be refinished over time and that means a longer life and a more sustainable product. We take this into consideration for our custom MASHstudio products as well as our residential lines LAXseries.com. People are in contact with our products and we want to make sure that experience suits the user.
How do you decide which species of wood to use for a given space?
We only work with domestic hardwoods that are sustainably harvested. The type of wood also depends on the the tone we want to achieve within the space. If we are going for a more formal library look, we might go with a darker wood. If it's a brighter more contemporary space, we might choose a lighter wood.
Ultimately, it always comes down to budget.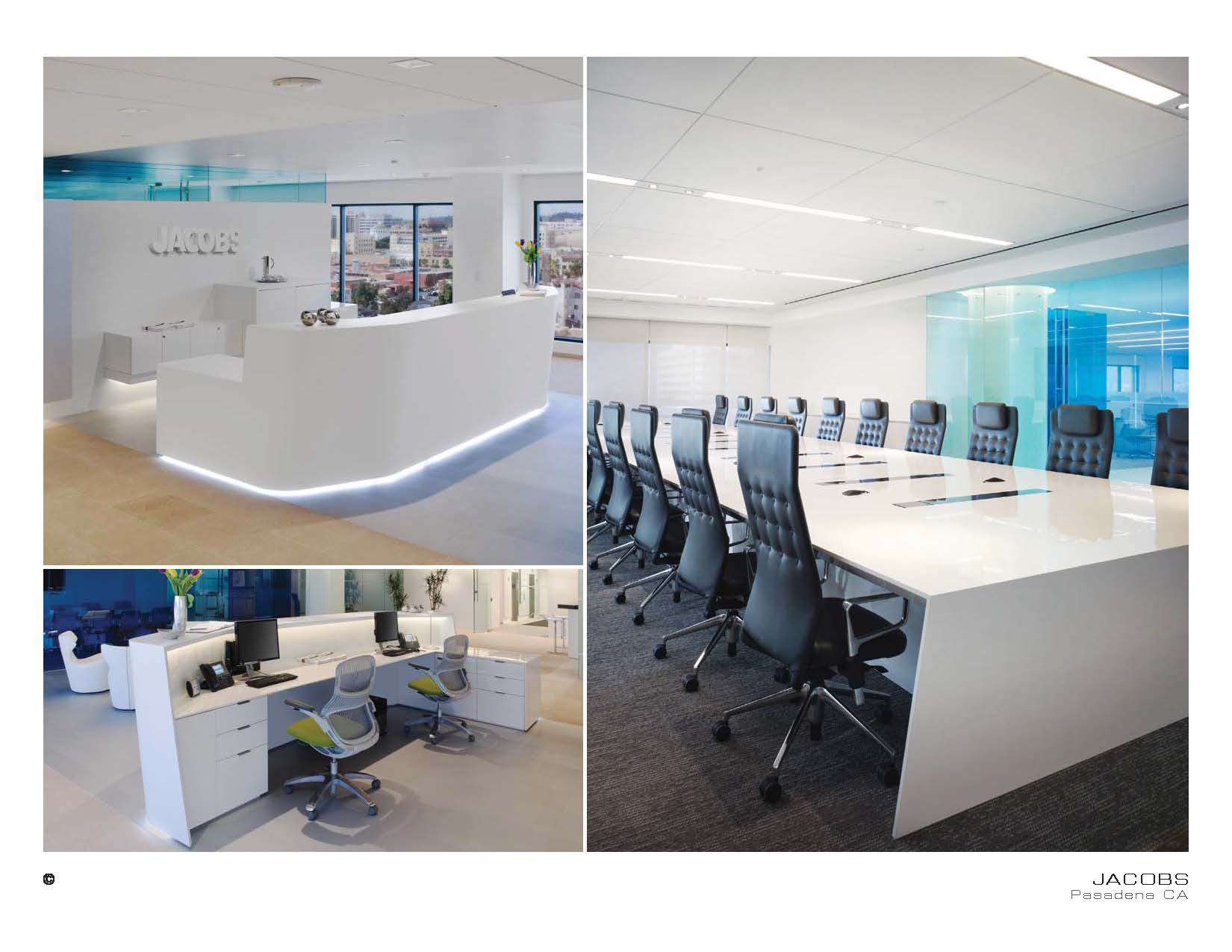 A huge conference room in gloss white gives a futuristic appeal to the Jacobs office in Pasadena, CA.
How much does the building and office space itself influence which materials you choose to use?
We like furniture that compliments the building environment. Furniture is a continuation of the architecture not in competition with it.
You have designed furniture for some of the biggest companies in the world including Google and Capital One. How much does a client's reputation and identity affect the designs you do?
The biggest part is being able to identify the brand and design furniture that is a continuation of the client's look and feel.
Many of your office spaces are designed hand-in-hand with architectural firms. Do the ideas for the furniture start with the architects, the custom MASHstudios designers, or do both sides brainstorm together?
Every project is a true collaboration. We are always feeding off of ideas via the architects, and likewise, we have lots of insight to provide the architect on materials and engineering. Our most successful project are collaborative efforts of the client, architect, designers, and engineering teams.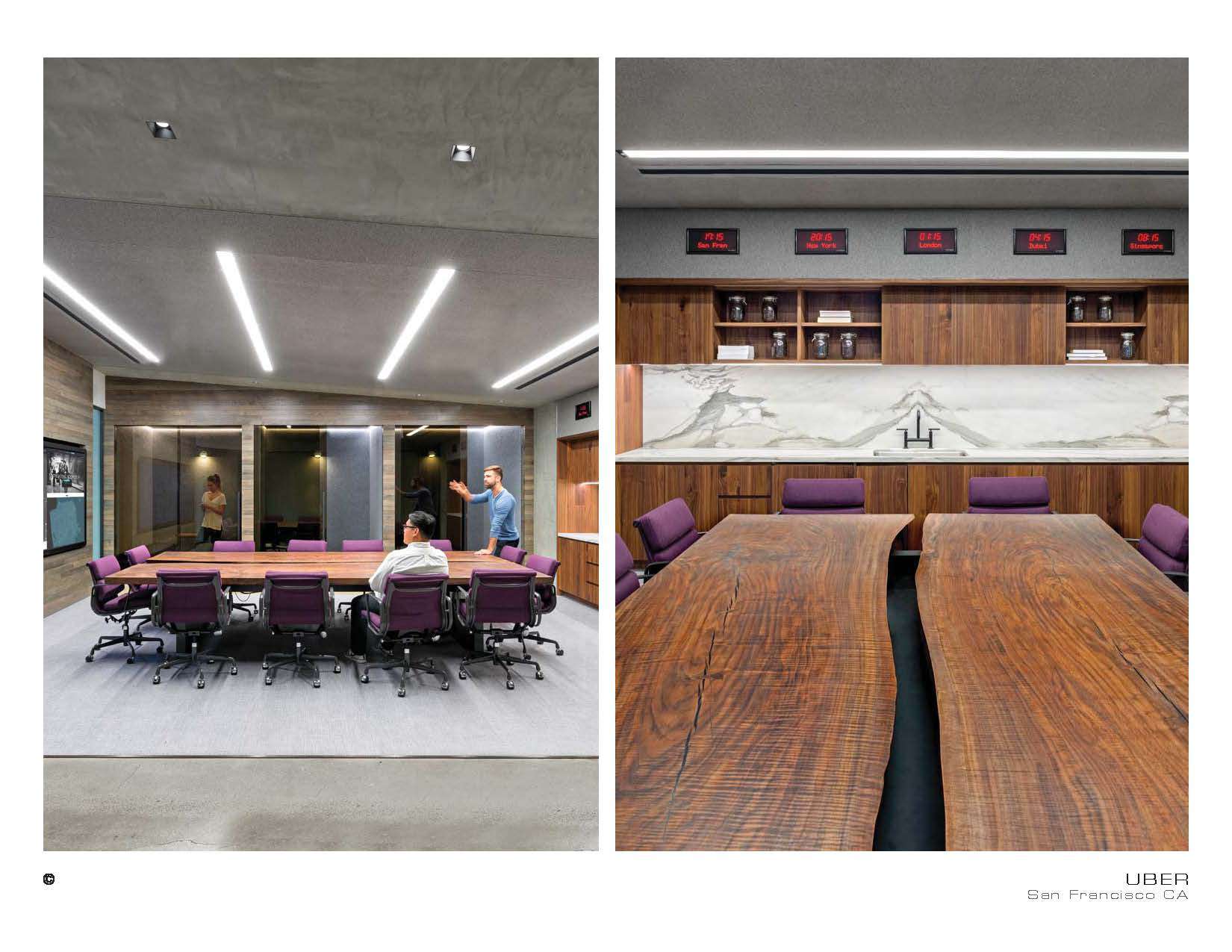 Solid wood planks with a live edge give this conference table in Uber's headquarters a rustic, warm, and natural appearance.
MASHstudios is known for its minimalist and modern aesthetic. How does that design ethos benefit an office?
Offices are naturally cluttered and have a lot going on. By minimalizing the visual noise and simplifying surfaces/spaces we are able to create work place solutions that are more productive and enjoyable for the user.
What do you think is the most important thing to consider when designing an office space?
The user.
Maybe you're not allowed to say this, but what's your favorite office that you've designed? If you can't say in particular, what's your favorite item for an office that you've built?
Like children we don't pick favorites.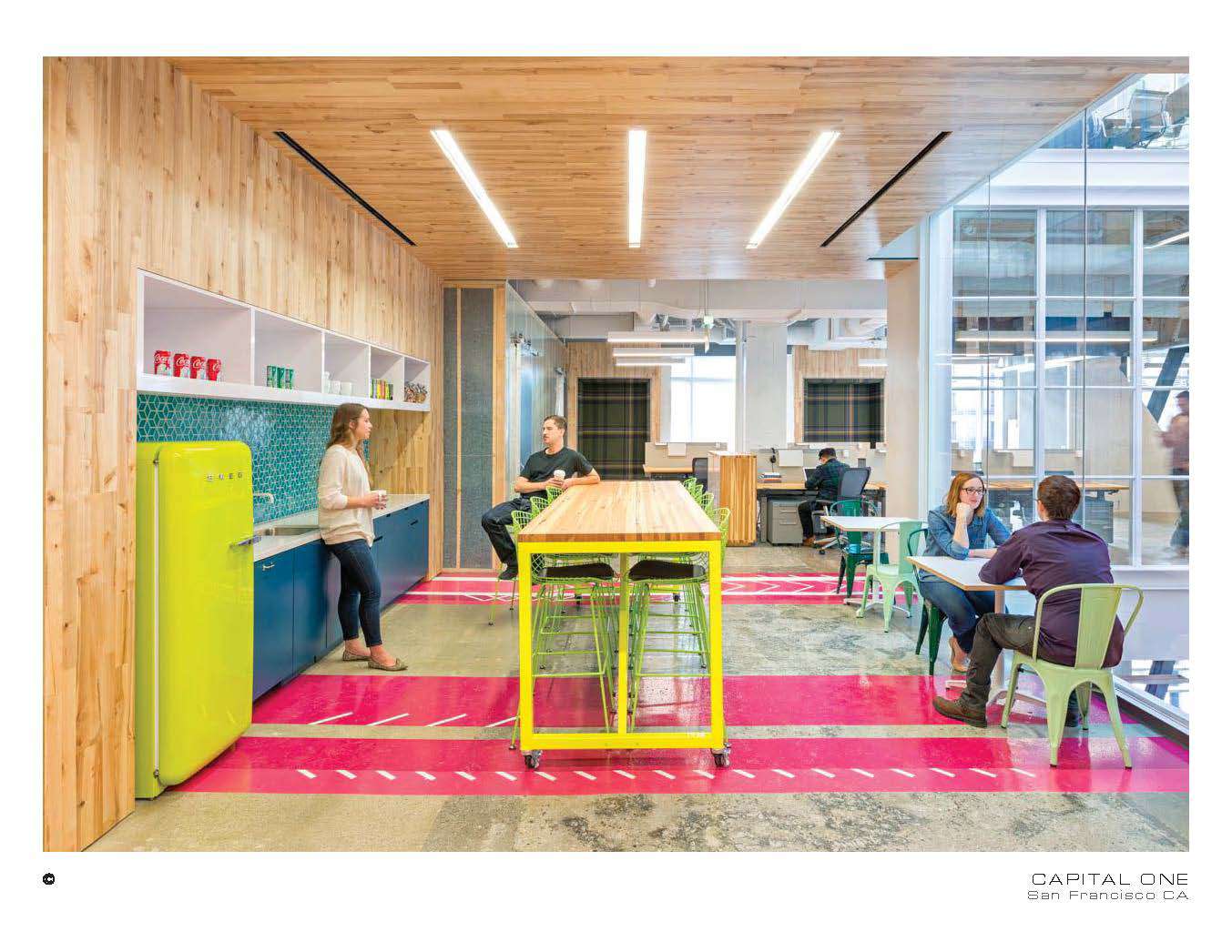 Lighter, natural wood tones cool down the bright colors in Capital One's San Francisco office.
What are the first things you consider when designing a new office space?
Design objectives. What the brand needs to represent and what the users of the space require.
Offices are becoming more and more creative than in the past. How do you think these dynamic offices are helping workers and businesses in the modern job world?
By creating a comfortable work environment employees are less tense, more relaxed and in an optimal place to stay focused, be efficient and create.
Lastly, what would you say to a business that is looking to furnish a new office, and why should they choose a custom-designed office?
I don't always think a custom solution is right. Many factors, beginning with budget, will determine if a client needs a custom solution or an off the shelf option. We design an awesome line called LAX Series that many of our client's source from and/or use as an alternative to a custom build.
The clients that need a custom solution are building more then an office, they are truly building extensions of their brand and that includes every bit a user can touch and experience. You can reach your goal either way, but again ultimately it comes down to budget. Mashstudios and LAXseries both are driven by a simple aesthetic and strive to simplify spaces while still making them extremely functional.