Day Four
I can't believe that I'm already on day four of five for my Leap Chair review. It's the penultimate day of my review; after tomorrow the powers that be will strip me of my Steelcase chair and I'll go back to sitting in the ol' bungie chair. Don't get me wrong – the bungie chair is great, but it doesn't provide the overall comfort level or have all the nifty features that the Leap Chair has. For instance, its arms.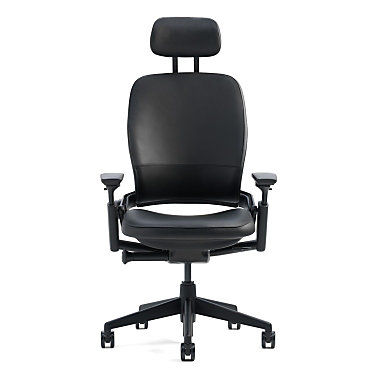 The Leap's arms don't just go up and down. They move in a bunch of different directions, and they do it without requiring any exertion on the part of the user. To move them up and down, just press a button below the arms, and then release it to lock the arms at the desired height. They also go forward and backward, and this requires no button at all. Not only that, but they swivel left and right too! You can move the arms north, south, east, and west with just a slight push, and then use those optimally positioned arms to rest your arms. I use a keyboard and monitor at my desk (as opposed to a laptop), and I like to move around depending on what I need to be closer to – my phone or my giant pile of mess on the other side of my desk. The point is that I constantly re-position my keyboard, which requires me to constantly re-position my arms; being able to move the Leap Chair's arms in three dimensions keeps me comfortable, and probably does good things for my shoulders and spine too.
Three dimensions: that's as good as it gets, plain and simple. It'll be years before they have a chair whose arms move in more dimensions than that. Only then it won't be called a chair – it'll be called a time machine. OK, I'm getting back to whatever it is I was doing before I started channeling Asimov. Later.