The coolest, most contemporary office in Chattanooga might live on the corner of Market and 8th Street. Modern furniture, a unique layout, and innovative ideas fill this 21st century space.
"We're a tourist attraction," Rachel Hanson, Director of Operations, lightheartedly quips as I walk into Lamp Post Group's headquarters. "People love seeing our space, and we love showing it off."
After stepping out of the elevator and through the large and open second floor doorway, I understand why. The office is a sight to behold.
Lamp Post Group is a Chattanooga based venture incubator. They boast a multitude of projects in their portfolio, with many more start-ups vying for their attention and funding. Besides the connections and wealth of experience that Lamp Post provides their ventures, the opportunity to work in such a beautiful office possesses its own draw.
Housed in the historical Loveman's building on Market and 8th Street, every nook and cranny of the office exudes personality. From the original, 100 year old floors to the futuristic bungee chair next to the expansive windows, everything in the office serves a purpose. Everything is useful and intentional.
The huge panes of glass shower the office with natural sunlight.
The modern desks contrast the antique brick walls.
---
Suite 200 provides powerful tools for the businesses within it—the power to network, converse, interact, learn, and share knowledge.
Designed by Artech Interiors, Lamp Post's office is designed to inspire creativity, collaboration, and transience. Glass offices for conferences divide the large space into manageable working nooks, segmenting the spacious room into more organized pods. Every area has a specific purpose, and each one exudes its own energy.
One of Lamp Post's startups, Waypaver Labs, occupies the front corner, its desk space lying under windows that overlook Market Street. The chief technology officer, Patrick, shares a Bivi table with program coordinator Emma. Across the room, various Lamp Post employees quietly work at their own conjoined desks. Wandering around the office, you encounter more and more people, all part of the larger vision that Lamp Post cultivates.
Lamp Post was founded with the intention of bringing high-tech development and forward thinking solutions to Chattanooga. The catch, Rachel informs me, is that they invest in people, not companies. "Ideas are transient," she says. "It's the people behind them that give them life."
Lamp Post's goal is to provide every company under their umbrella the opportunity to flourish with a bevy of benefits, one of the most obvious being the Suite 200 office space itself.
Many entrepreneurs will agree that finding an appropriate office space can be one of the biggest challenges of the business building process. Even Apple, a multibillion dollar behemoth is shelling out significant sums of money for their new headquarters. The reason is because a company's office is important. It establishes culture, provides a basis of company identity, and inspires workers.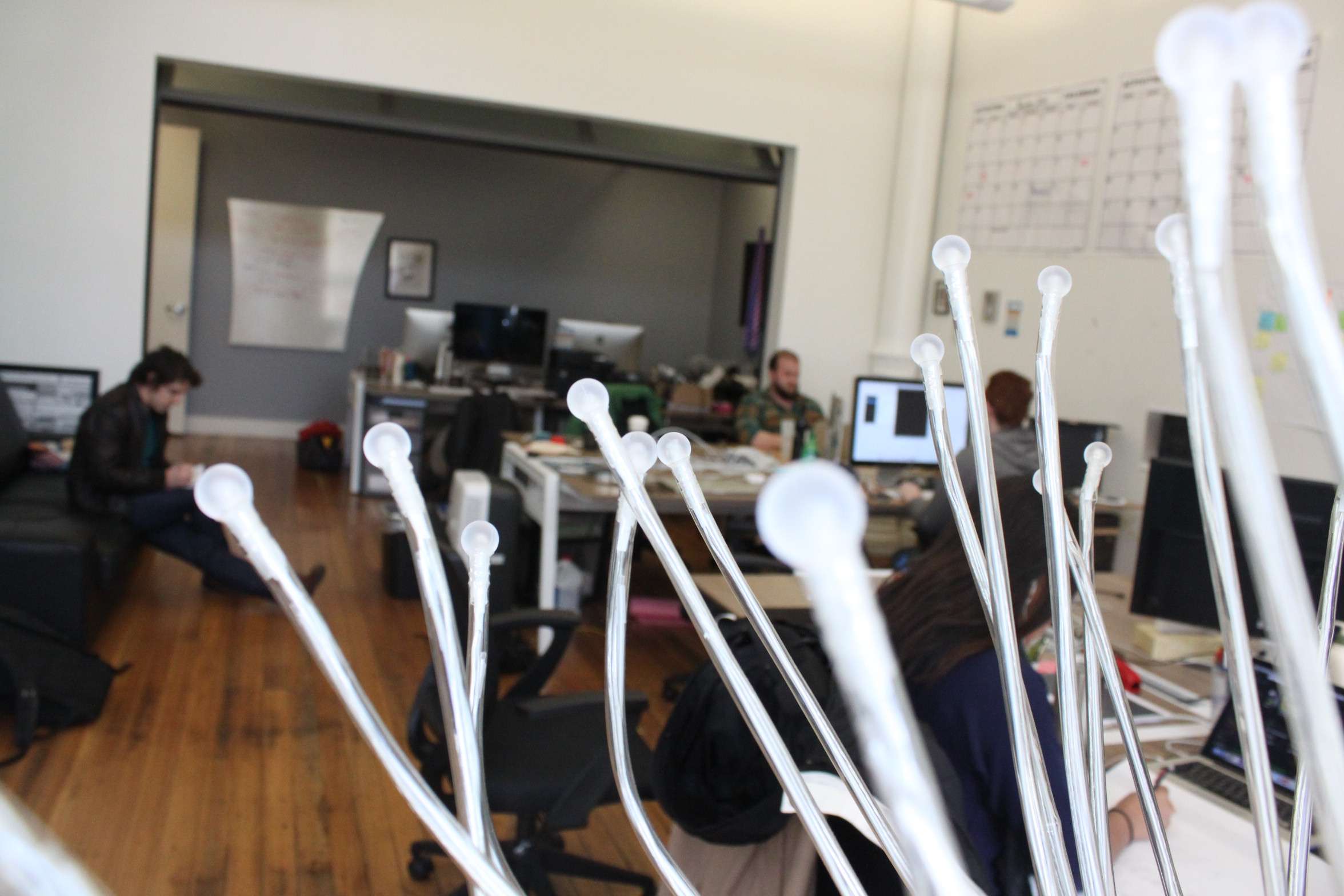 The Torch room is separated by an industrial garage door and features airborne speakers, colorful accessories, and close knit pods of desks.
Start-ups, however, usually don't have the capital to invest in a state-of-the-art office, so they're left to work in less desirable spaces that may not fit their needs. Lamp Post understands that quandary, which is where Suite 200 shines.
By housing the companies under their own roof, they remove the distraction of "place" from the startup equation, allowing the entrepreneurs to focus on tasks at hand instead of peripheral business needs. Things like like furniture, snacks, and dish detergent are taken care of, freeing their visionaries to build their business instead of micromanage office stuff. Each start-up works in close proximity to one another, allowing a free flow of ideas from one business to the next, hopefully setting each up for success.
Suite 200 provides powerful tools for the businesses within it—the power to network, converse, interact, learn, and share knowledge. Those tools are made possible through the careful layout of the floor and the furniture itself.
Bivi Tables spread throughout the space in separate pods, providing a modern alternative to traditional cubicles. The modular desk system is configurable, so the spaces can morph as needed. A pod of two can quickly become a single desk.
Running through the middle of Suite 200 is a line of conference rooms encased in two sides of glass, each with an iPad that displays the room's schedule for the day. Some of the conference rooms have traditional desks, while others have more informal seating arrangements. Rachel confides, "These conference rooms are a lifesaver. This office would be pandemonium without them."
---
For a company to be successful, it has to feel successful, and nothing will build up workers like a comfortable and gorgeous office.
The central conference rooms aren't the only calm areas. On the office's far wall, two quiet spaces provide a silent reprieve for those looking to focus a bit more intently at their computer screens. Dubbed "phone booths," Rachel has set up a system to ensure these nooks are readily available for workers. "We like to limit the use of the phone booths to people that are talking on the phone. Otherwise, folks would never leave," she chuckles as she points out the soundproof foam and clear glass door.
Rachel explains, "The open office design is great, but it has its shortcomings. It can get loud in here, which is why we have to regulate how much time people can spend in the phone booths. Everything has a trade off, so it's great that we have both open and secluded places for our employees to work."
Lamp Post's unique floor plan and arrangement touch on many of the biggest trends in contemporary office design. The open office works like a giant collision space, promoting collaboration and impromptu meetings. The conference rooms grant a bit of privacy for brainstorm sessions. The phone booths give workers a quiet space to separate themselves from noisiness for a few moments of silence and reflection.
Even with the diverse workspaces and companies within it, the office is balanced. The quiet spaces provide contrast to the open layout, which complements the central conference rooms.
Just like each start-up housed under Lamp Post's roof has its own vision and endeavors, each space provides a unique purpose in the office. Together, those many areas create a convivial atmosphere with palpable energy—something you feel as soon as you step foot into Suite 200.
For a company to be successful, it has to feel successful, and nothing will up build workers like a comfortable and gorgeous office.
Lamp Post might just own the best office in Tennessee.