Kenny's Chattanooga craftsman has tons of charm, comfort, and style. Check out his outstanding upholstery pieces from American Leather and Innovation!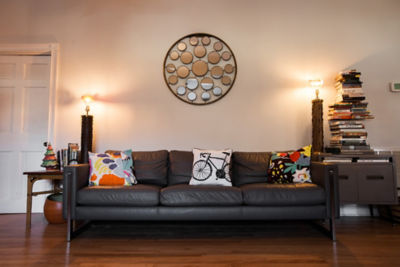 Meet Kenny: our customer service manager and generally rad dude. He's been on the front lines providing incredible service to our customers since April 2013. He's a rock climbing, bike riding, good-time-having kind of guy. In this installment of "In Our Store, in Our Homes," we're going to take a tour through Kenny's abode. We'll meet his two lovable pups, see if it's possible to have a sleeper sofa worth sleeping on, and we'll fall in love with his modern sofa from American Leather.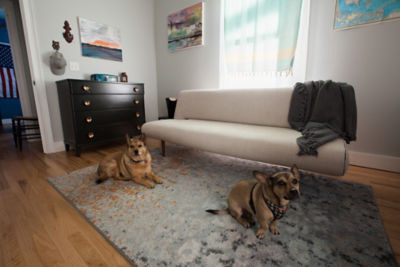 First things first. Tell us about your furry friends.
Imagine furry, spoiled versions of hitmen from the Godfather movies and you've got my boys Zo (short for Clemenzo) and Luca Brasi. They're all attitude and rule the roost, but deep down they're all about the cuddles and treats. Our neighbors dog, a chiweenie like Luca, is named Don Vito by coincidence. So, he's the true OG. Never go against the family.
Have either of them staked out their own spot on either sofa?
Totally. We tried our best to keep them off the sofas at first but they insisted on sitting with us, and we couldn't say no for too long. Thankfully, both sofas are upholstered with fairly fur-proof stuff so we only need to vacuum them every few days. Zo sheds quite a bit, so there's really no way to prevent his fur finding its way into the nooks and crannies.
It looks like your American Leather sofa is your main sitting area in your living room. How's the material holding up?
Exceptionally. In fact, the leather seems to be aging nicely with just a little mild wrinkling you'd expect from natural material. Overall, it really looks just as new as the day the sofa came home with us. The cushions seem to have softened a bit over time but the leather has retained a new appearance and feel. The leather itself is super tough. No scratches or any blemishes have developed whatsoever.
I'm digging the throw pillows on the American Leather sofa. Did you pick those out?
Nope. Those are all Hannah (my amazing wife). The three colorful pillows on the right and left are made from Marimekko textiles my mom got around 1975. Hannah made them into pillows with help from our good friend.
Have you used the Innovation Unfurl sofa for guests? If so, what's the verdict on its sleepability?
Many times, and our guests always have good things to say. It's pretty firm compared to a standard mattress but our guests always report they sleep well through the night. I imagine someone accustomed to a super soft mattress might not enjoy it as much.
Both sofas look like they're in great condition. Do they get daily use?
The American Leather sofa gets used daily, but we only sit on the Unfurl a few times per week. That guest room doubles as Hannah's 'cloffice' so it doesn't see much guest traffic.
Is the American Leather sofa your favorite piece of furniture? I think it's my favorite piece of furniture, and it isn't even mine.
Yeah, hands down. Come join us for game night one week and we can take turns on it.
Have you read all of those books on the sideboard?
That's such a weird mix! Cookbooks, climbing guidebooks, SciFi books, an illustrated botanical guide from like 1960, My Favorite Thing is Monsters. I should start at the top and work my way down.
---
If you want to invest in your own American Leather sofa, give us a call. We can't advertise them online, but we can definitely help you on the phone. You can click here to check out the entire Innovation collection. You can be just like Kenny!