When our merchandising team here at Smart Furniture decides to represent a new brand, the first thing we look for is a compelling brand story. In our minds, the elements of a compelling story include history, a compulsion for great design, unwavering quality, and the ability to fulfill a niche of their own. With this in mind, we would like to introduce you to the newest member of the Smart Furniture line-up, Four Hands Furniture!
Four Hands Furniture is a design driven company that emphasizes a connected world view and tenaciously chases cutting edge innovation. Perhaps their own words may serve us well here:
The best way to describe our design process is relentless. We tinker. We experiment. We take something we love and find ways to tweak it, rearrange it and make it new again. This is how we achieve refined and classic, yet innovative and cool. It's how we mix inspiration with expertise, juxtapose materials and styles and ultimately, offer you finished pieces that can transform a space.
The Four Hands collections are inspired by travel and adventure. It is their belief that each piece is a part of a story that will continue to be told by the space into which it arrives. This belief incorporates the end owner or customer directly into the Four Hands story. It means that the pieces they design are intended to fill a very important space in the life of one of their customers. It's about transforming a space into something really special for real people. It is this philosophy that inspired our partnership with Four Hands Furniture.
It was the authenticity of the Four Hands Mission, the incredible quality of their furniture, and the globally focused design that convinced us to partner with the Four Hands Team. Below, we have selected three of our favorite Four Hands products that we feel exemplify their story and mission.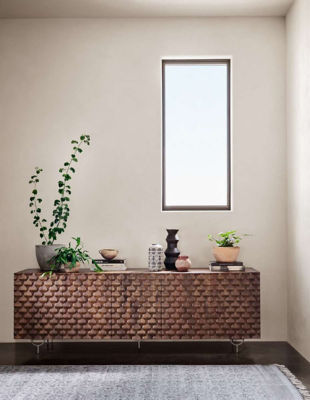 The Rio Media Console
Let's just begin with three words, mango wood and iron. This is really all you need to know about this console to understand that it is a true one of a kind. The Four Hands team have ingeniously meshed a primitive antique style with precision computer numerical control (CNC). A CNC router allows the artist to create perfectly symmetrical cuts or carvings into wood, composite, steel, and glass. The Rio Media Console's antique brown mango wood adopts intricate CNC carving patterns for a uniquely textured look.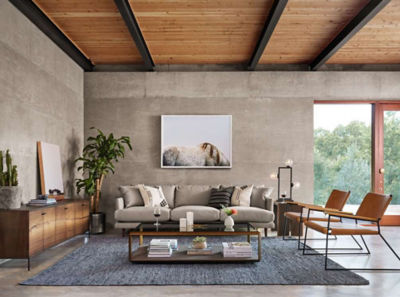 The Shagreen Shadow Box Coffee Table
The Shagreen Shadow Box Coffee Table embodies rustic elegance placing a functional spin on the traditional shadow box. As with all Four Hands pieces, this table brilliantly incorporates natural elements into stunning design. Whips of antiqued brass, stainless steel, and glass create a presence that is both trendy and timeless. The base layer of shagreen sets the perfect stage for your favorite shadow box trinkets. This coffee table will be the creative centerpiece of any room and it's so much fun to set up. The Shagreen Shadow Box Coffee Table is a small room within a room!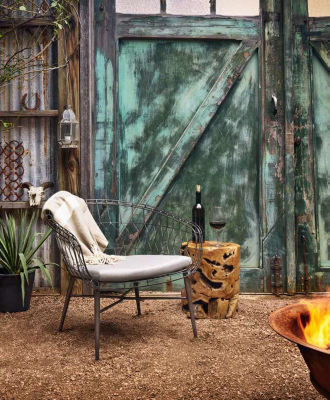 The Teak Stool
The teak stool may just be a simple accessory but it is also a window into the natural world. Each of these stools are cut from natural teak root wood and each one is completely unique. Your one-of-a-kind piece can be used as a proper stool or a perfect small end table. The Teak Stool is perfect for indoor or outdoor spaces. This piece will naturally weather and grey over time when used outdoors creating an established rustic vibe.