At Smart Furniture, we know furniture, and we want to make it easier for our customers to make their purchases confidently and knowledgeably. Our knowledge stems from the awesome partners that we have, and Saloom is no exception. Peter Saloom is a 2nd generation furniture builder. We wanted to know how to help our customers shop for dining furniture. We figured, why not ask the people who make it?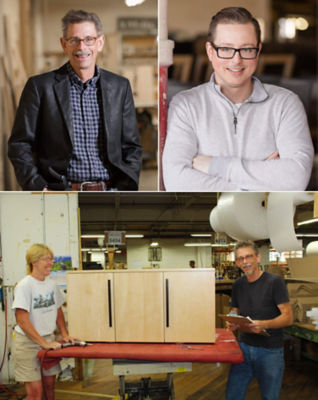 Furniture is hard. For most people, buying furniture is a really rare occurrence. That means, when the time finally comes to buy new stuff for your home, it can feel impossible to know where to start. Compounding the problem is that furniture has its fair share of jargon, special terms, and opaque selling points.
At Smart Furniture, we know furniture, and we want to make it easier for our customers to make their purchases confidently and knowledgeably. Our knowledge stems from the awesome partners that we have, and Saloom is no exception. Peter B. Saloom is a 2nd generation furniture builder. We wanted to know how to help our customers shop for dining furniture. We figured, why not ask the people who make it?
Here's our exclusive interview with Peter B. Saloom, son of Peter A. Saloom and Linda Saloom, all of whom run one of America's great furniture manufacturers.
Firstly, what exactly does quality mean when you're talking about furniture? Is it mostly the materials, the construction, or both?
I would say neither. Quality to me is three things working in harmony, design, craftsmanship, and ethics. We are lucky to have one of the best furniture designers in the world, my dad working here at the company. He has been designing furniture for almost forty years now and is able to employ his creativity in a way that also creates a highly functional piece of furniture for everyday use. That is a skill that can't be overstated.
We are also lucky to be located in central Massachusetts where we have a tradition of high-quality furniture making that pre-dates the founding of our country. We have the most talented people building every table one at a time as though it were headed for their own home. We use time tested methods of construction like mortise and tenon joints and dovetail drawer boxes. We apply multi-step finishes carefully by hand. We also consider the ethics of how our products are produced. We use solid maple hardwood for our table tops which is among the most carefully regulated and harvested timber crops on Earth. We also design and construct our furniture to last a lifetime, which ensures it doesn't wind up in a landfill in a few years like so many consumer products do. Design, construction, and ethics are the recipe. It's really no secret. It's just hard work.
Timeout. Can you explain what mortise and tenon joints are?
Sure! Mortise and tenon jointing is a time-tested method of furniture making in which a tenon, or an extended cylinder of a particular part, is inserted into a mortise, which is essentially a pocket made to receive that tenon. It creates a durable joint without using fasteners like screws or brackets that are often unsightly. In the image below you have the tenon on the right and you can see where it will be inserted into the mortise. We use this method a lot because it lasts forever and creates a beautiful, precise woodworking joint. Cheaper furniture makers would drive some screws in here because it's faster, easier, and cheaper.

Mortise and tenon construction leads to stronger joints that will hold up for years. Cheaper furniture will have staples, nails, or just glue.
Got it. So mortise and tenon joints are one indication of higher quality furniture. What are some other tell-tale signs of high quality furniture?
For me, pieces that really stand out are pieces that are both aesthetically pleasing and built to exceed the rigors of their expected use. As sculpturally beautiful as a chair might be, it really is of little value if you can't sit in it every day. On the other side of that coin the steel reinforced, square stool might be able to hold up a tractor trailer, but it really is no joy to look at. High quality furniture strikes a beautiful balance of the two. I think of it as harmony.
So then, conversely, how can you tell if something probably isn't that great?
Everything looks so beautiful in a photograph. You have to use some common sense. If the table you are looking at looks like a modern masterpiece and the price is less than a tank of gas, you need to expect that the materials used might not be the most durable, or the most ethically sourced. It's no fun to think about but if you are paying next to nothing for furniture, imagine what the people who are making it are earning (look a little further into the details). Smart Furniture does a good job of getting into the quality features of items. Read the overview section on their product pages. Make sure you understand what your table or chair is made of. Find out where it's from. Finally use the reviews to your advantage. If someone else has purchased the product and it is anything less than the beautiful photo, they will likely tell you about it.
Are there any materials people should avoid if at all possible?
Big things to look out for are things like low density chipboard, which is a great material to keep costs down but just isn't engineered to last very long. Ikea has built their empire on this stuff, and it sure gets the job done for a sweet price. If you want something to last more than a year or so, you need look for materials that can stand up to a little bit of moisture and have been assembled by professional woodworkers. If it looks like a Rice Krispies Treat, it will probably hold up like one.
I love that—Rice Krispies Treat wood. So how does quality factor into Saloom's manufacturing and design processes?
It really is everything to us. Without quality we don't have a company. At the end of the day we are making tables, chairs, and cases. There are lots of factories all over the developing world that can do that faster and cheaper than Saloom can. The reason we are able to continue in the midst of that level of competition is because we put quality and service first. We just don't make a bad product—period. We have design reviews where we throw away lots of prototypes because we know the quality won't be to the level that the Saloom name is synonymous with. Our customers come to us because they want the best, and that's what we strive for. My family's name is on every carton that leaves this factory. Our tables are in hundreds of thousands of homes across the country. People gather around tables we built to share intimate family meals, holiday feasts, and board games. We truly value that and take it very seriously.
If you had to give a ball park answer, how long can someone expect furniture from Saloom to last?
As long as it is treated within reason, 100 years, maybe longer. I have never been alerted to a Saloom table finally totally wearing out. We are sent photos regularly of tables we built in the mid-1980s from satisfied customers. Lots of times a family will pass down the old Saloom table to their kids when they move out to their first place and then come get a new one for themselves. I have a little box of photos I call the Saloom museum with tables that are just ancient and still in use. Below is a photo of a table still in use after more than 30 years. (this model is discontinued, lol)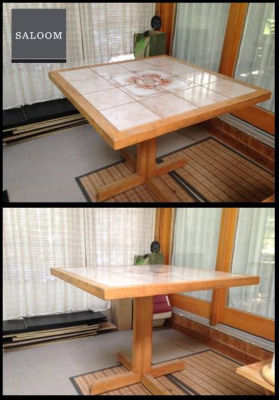 How about this throwback, still kicking it over 30 years later!
Have you ever heard of the Boots Theory? Saloom is an awesome case where prices are really affordable while still maintaining top-notch quality. What would you say to someone who's looking around at different brands for dining furniture, and why should they choose to pay a little more for Saloom instead of a little less on something else?
Oh, Pratchett-RIP. The Boots Theory applies for sure though. Here is what I tell people when they are looking at our furniture and wondering what the difference is. If you are looking at a picture of one of our tables and a picture of another table that is a similar design, you may not be able to pick out any differences. And it's possible the prices might be drastically different. The reason for that is something we refer to as invisible quality. Invisible quality is all the valuable design and construction work that goes into our products that is hard for the average consumer to detect without some help. Things that fall into this category are our solid maple table tops, our solid brass leaf pins (most are wood or plastic), or our full envelop finishing (more on that here)
What's a misconception that you think people have about Made in America furniture?
Most people think American made furniture is traditional, and they aren't wrong. The vast majority of it is. Saloom makes beautiful traditional furniture, BUT we are also passionate about mid-century and modern furniture. A lot of people think that type of furniture has to be bought from a European source, but it doesn't. It's being made in the room next to me right now, and it's every bit as high quality.
What's the best piece of advice you could give to someone who's in the market for a new dining set?
Make yourself happy. Think about all the things you do at a dining table. Actually make a list. It's more stuff than you might think. It certainly goes beyond just eating dinner. Also, don't settle. Don't buy a table that's not the right color because it was a great deal or is a little too big or too small for your needs. You will just notice the mismatch every day. SmartFurniture has a lot of tools that will help you find the right table. They allow you to sort by all sorts of criteria. Saloom offers a ton of color options and size options. You won't regret spending money on something that looks great and can be used every day for years and years.
If you want to shop for your own piece of heirloom furniture from Saloom, you can shop the entire collection here.