Claire from the Smart Furniture Design Team, walks us through the process of the Pine Breeze home staging.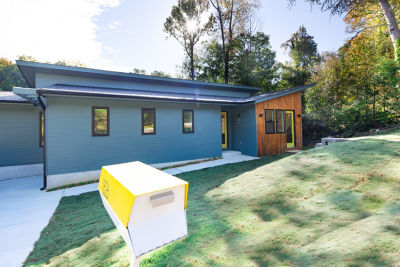 Can you walk us through the backstory of the Pine Breeze project? How did Smart Furniture get involved?
Through our relationship with Gary Crowe and Uptown Firm. Our Furniture fits perfectly into their mid-Century style newly build homes so the partnership is effortless! They are a group of realtors and home builders in Chattanooga who reached out to us to fill the space for an open house.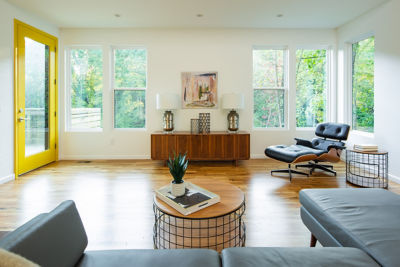 Products Shown: Belmont Credenza by Gus Modern*, Wireframe Coffee Table by Gus* Modern, Wireframe End Table by Gus* Modern, Eames Lounge & Ottoman by Herman Miller
As a team, what steps did you take when beginning the planning process for this project?
We spoke with Gary, the agent and project manager about the spaces he needed filled, obtained the floor plans, made furniture layouts for each room in a cohesive but unique Style. We sourced what we needed from our vendors and worked with items from our studio as well.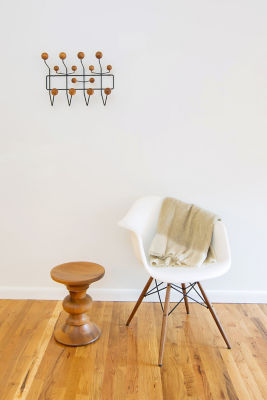 Products Shown: Eames Hang-it-All by Herman Miller, Eames Plastic Armchair with Dowel Leg Base by Herman Miller. Eames Walnut Stool by Herman Miller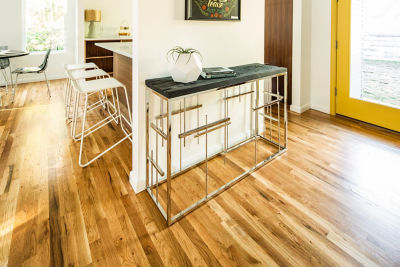 How do you typically go about choosing furniture and decor when staging a home? Can you tell us about the pieces that were chosen for this particular project?
We usually look at the style of the room, the interior architecture. We first have to listen to what the room is telling us and what it needs. For this home, the angular ceilings and windows, Bright white walls, and the floor finish we determined it needed something reminiscent of mid-century modern, while still keeping its minimal idea. The Eames Lounge is a statement piece that adds depth to any room. As desirable as the Modern Architecture of the Pinebreeze home is, we wanted to make this home appeal to the person who appreciates wonderful design in furniture as well.
Once we know what style we want to source, we determine if we have the space capabilities for a sectional, sofa, or need small scale piece like an apartment sofa. The floor plans and our measurements help us make these decisions, for each room in the house whether it is a dining space, living, or bedroom. We had room for a sectional and we wanted to square off space and make the large open floor plan cozier.
When we stage, we also add in decor, lighting, art, as well as objects that reflect the "homeless" of the space so that people can envision themselves in daily life there.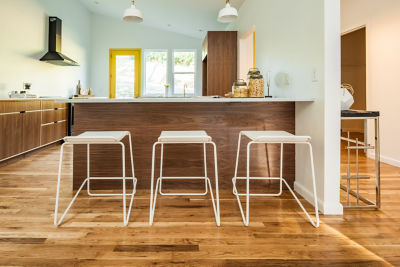 Products Shown: Ready Stacking Barstool by Blu Dot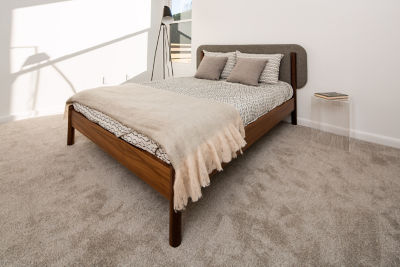 Products Shown: Ditto Bed by Blu Dot, Timber Side Table by Gus* Modern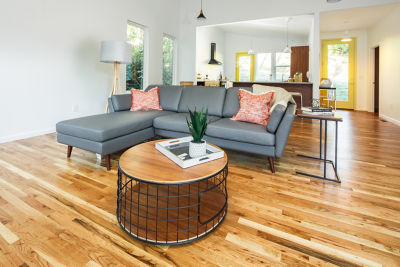 Products Shown: Tobias Nesting Table by Gus* Modern, Wireframe Coffee Table by Gus* Modern
Home staging isn't just another form of decorating. What is the added value of hiring a staging team?
Home staging helps prospective home buyers envision their lives in the space. A designers eye for efficient and creative use of space that inspires people to make the investment in their home purchase, so it is often vital for agents to contact designers for staging. We know furniture, and we are experts in space planning, so we are sure to make any empty space come to life.
Products Shown: Ice Chair by Connubia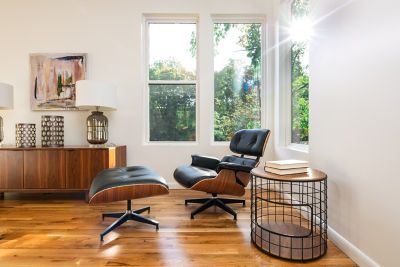 Products Shown: Belmont Credenza by Gus Modern*, Wireframe End Table by Gus* Modern, Eames Lounge & Ottoman by Herman Miller