As many of us continue to settle into our new work from home lives, we have slowly become office furniture specialists. In fact many businesses are offering their employees stipends to create a productive remote workspace. However, once you dig in and start reading about ergonomics, height-adjustable workstations, and tilt limiters, it quickly becomes apparent that good office equipment can be really expensive!
Below you will find a detailed review of two of our favorite office chairs. Both of these chairs are ergonomically sound, fully adjustable, and affordable. In addition, these chairs are backed by a best in class warranty plans. These chairs will provide you with the elite everyday performance of a top shelf office chair but leave a little stipend left over for a desk or a desk converter. These chairs are also included in our QuickShip program, meaning they ship within 24 hours of your order. It's just not necessary to wait for weeks and weeks for a great office chair.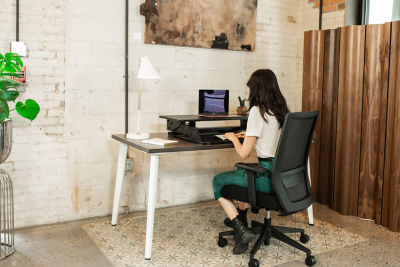 The Verve Desk Chair
The Verve is an elegant and streamlined ergonomic task chair. The clean lines of the Verve's arms, seat, and mesh back make the Verve Chair the perfect compliment to every home office space. Wh know that when great design meets simplicity, focus and productivity both increase.
The Verve task chair offers superior adjustable lumbar support, synchro-tilt, tilt-tension adjustment, adjustable height, and height adjustable arms. The sturdy mesh back designed for breathability to you cool during long periods of work. The Verve Chair is incredibly easy to assemble. In fact, one person can completely assemble this chair in less that 30 minutes. Now that's convenient!
The Cadence Desk Chair
The Cadence Chair is best defined as high design inspired by practicality. The Cadence task chair was designed to deliver the ergonomic support of the most expensive task chairs while at the same time maintaining an air of sleek minimalism. The Cadence chair is perfect for every style of work, up and down all day or seated comfortably for long hours.
As we set out to define the perfect office chair, we interviewed real customers in order to discover the features and factors that drove purchasing decisions. Our research identified two main themes that figured into the purchasing rationale; preventing or reducing back pain from long hours of seated work and cost. So, we started with the question, Can we offer a task chair that will eliminate and/or reduce back pain that is economically priced? We believe the Canence chair is the perfect answer to this question. In fact, we are so confident that our customers will agree that we decided to offer a lifetime warranty to back the Cadence task chair. This is the chair that won't break the bank but will perform as well or better than the most expensive task chairs. So, since you're saving all that money, why not invest in a height adjustable desk or a rocking footrest?