It seems that Charles Eames met, worked with, or directly influenced the majority of mid-century modern's luminaries. Perhaps it's because that community was so tight-knit, or maybe it was because they admired each others' work so thoroughly. In any case, Harry Bertoia was no different.
Born in Italy, he visited his brother in Detroit when he was 15. In a choice that would affect the rest of his life, he decided to stay in the United States; for the rest of his secondary education, he studied art and design at Cass Technical High School. Subsequently, he received a scholarship at the Cranbrook Academy of Art – a school that would be placed at the historical forefront of mid-century architecture (Saarinen) and furniture design (Eames).
Diamond Chair
Having studied at Cranbrook with Charles and Ray (and having designed and created their wedding rings), he went to work for them from 1943 until the end of WWII. Legend has it that the wire chairs the Eames' produced were inspired during that time. When Bertoia himself designed a similar chair for Florence Knoll's company, Herman Miller succeeded in enforcing their patent for the Eames wire chair. Bertoia redesigned his wire chairs, and they achieved immediate success on the market.
Harry Bertoia's wire chairs were very similar in composition, and very dissimilar in form. Five in all, those chairs included the famous Diamond Chair, Side Chair, Barstool, Asymmetrical Chaise (my favorite, for some reason – probably because symmetry is like a rule that was made to be broken), and the aptly-named Bird Chair with ottoman.
Bertoia designed for Knoll only as long as he needed to. Once his chairs were selling well enough to provide him with a comfortable income, he devoted himself exclusively to sculpture. Many of his pieces went beyond sculpture, though; he became proficient at creating "sounding sculptures" that responded to wind or touch to make a kind of music.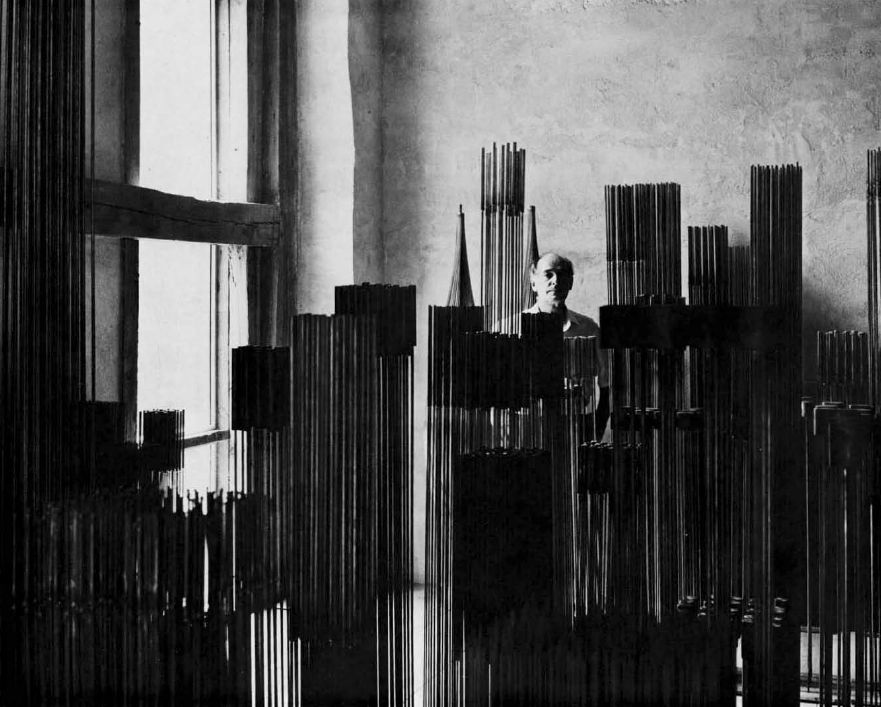 Bertoia with Sonambient Sculptures
While many people will identify Harry Bertoia as the designer of a bunch of sweet-looking wire chairs, he found his greatest joy in the creation of unique sculptural pieces. Large-scale installations, smaller sound sculptures, and even ten albums of music created by his art occupied his time and energy. The albums, each titled "Sonambient," epitomized his design philosophy. Bertoia wanted to work with nature, rather than against it, and he succeeded through the most unlikely of mediums.