This beautiful home collaboration between Uptown Firm and Smart Furniture Studio will make you want to move to Chattanooga ASAP!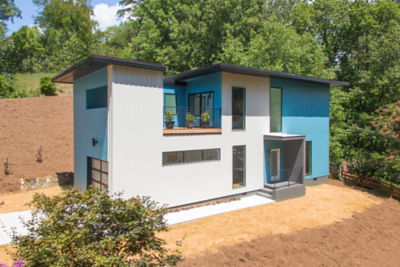 What happens when you combine the realty savvy of Uptown Firm with the styling panache of Smart Furniture? You get a one-of-a-kind home in the illustrious Scenic City. Two of Smart Furniture's ultra-talented designers, Amy and Leslie, spent hours designing and bringing this awesome home to life. Through meticulous planning and unparalleled product knowledge, Amy and Leslie show that Smart Furniture does way more than just sell furniture. We create awesome spaces.
Bright colors contrast with the green of Tennessee's rolling hills, giving this unique house a new-world charm that positions it wonderfully against one of the South's most beautiful cities. Taking advantage of the ample natural light that cascades into the spacious rooms through generously proportioned windows, each piece of furniture opens up the space and makes it feel spectacular. Utilizing signature pieces from a wide selection of brands, this collaboration between Smart Furniture and Uptown Firm show what a bit of know-how can accomplish.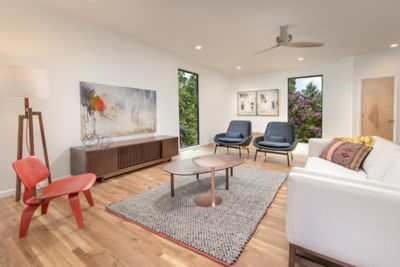 The living room features wonderful modern pieces from Herman Miller and Blu Dot. An Eames Plywood Lounge Chair accents the Blu Dot Field Lounges and BDI Vertica Console.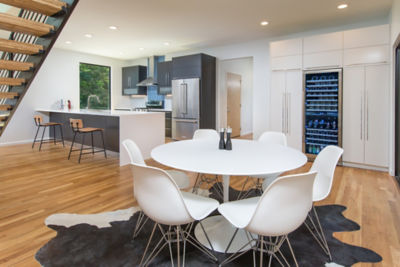 Pure white and clean, it's hard to beat a pairing of Saarinen and Eames! These two classic designers' pieces go together like peas and carrots.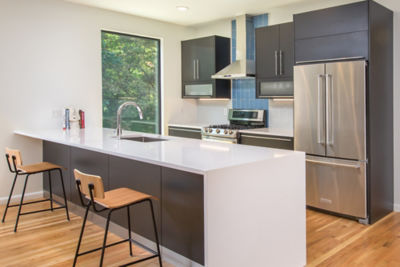 The kitchen, which opens directly into the dining area, is a modern beauty. Stainless steel appliances coincide wonderfully with the gloss white countertops and slate cabinets. Don't forget about the Gus School Counterstools!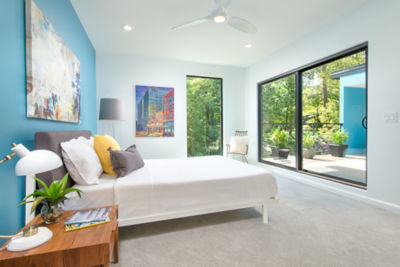 The Bedroom's blue walls match the exterior, while the large, sliding glass doors open onto a second level terrace. Can you spy the Brent Sanders artwork on the wall?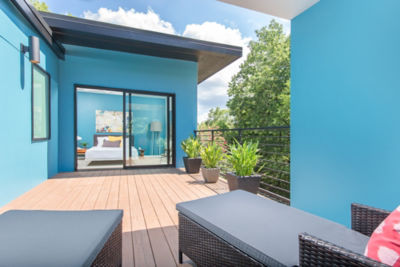 Looking into the bedroom from the terrace, blue sky lights up the blue house. If Eiffel 65 was singing about this home the whole time, we were missing out!