A while back, we had the pleasure of giving some furniture to a local startup. RootsRated is the brainchild of some guys who love the outdoors, love when other people find places to play outside, and want to be the storyteller for the outdoor enthusiast community. They're hikers, campers, climbers, skiers, paddlers, and writers. And they've got no problem with jumping off a cliff every so often. They're fast becoming the go-to resource for people who want to walk down a trail they've never walked down before — and who want an expert recommendation.
Their problem was that, while their goals are clear and their stories inspire people, their own offices were cluttered and inflexible … hardly appropriate for a company that wants to broaden peoples' horizons. They needed a solution, stat.
Going into the project, we learned more about what they need as a company — and as individuals.
They need flexibility
This is the big one. They're a bunch of guys who like changing their space every so often. Though some of them stay in the same spot all the time (Dev team, here's looking at you), the rest of them move around, changing positions and places on a frequent basis. We addressed their need by using Bivi desks by turnstone. Bivi is an ingeniously modular desking system that's super flexible and can be added onto (or subtracted from) when needs change — or when the RootsRated team just feels like flipping things around.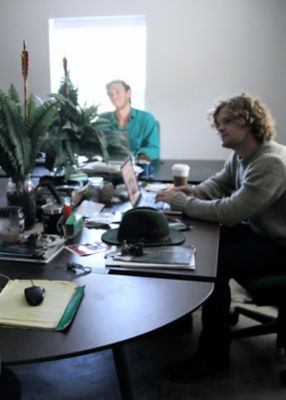 They have part-time and freelance employees
These are folks who come in every so often. The Bivi desks we gave the team are large enough that they can accommodate two per side at a pinch, and a half-round table at the end of one of their desks is the perfect place for a couple of freelancers to pull up chairs and stay a while.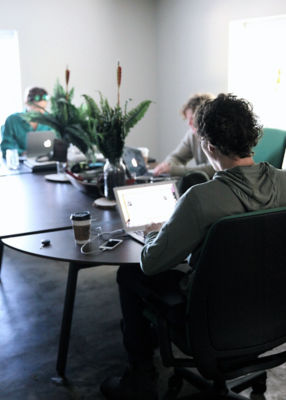 They're growing
… and they'll probably add more furniture later. Bivi's aforementioned modular capabilities make adding a desk a snap later on. The building blocks of the system allow for a one-person desk to grow into a two-person, four-person, six, even 24-person desk (assuming they have space for something that long). Addition or subtraction is the reason Bivi exists. Integrated storage is another option for the future, and they won't have to go looking for something that'll work with what they have. The system incorporates storage that matches finish and form.
They may move to a larger location as they grow
One of the best features of Bivi is that disassembly is easy and doesn't weaken any connections. You know the desk you got for $99 from that huge yellow and blue store, the one you had to disassemble last time you moved? It probably wobbles now, doesn't it. Reassembly never quite works as well when you're dealing with wood screws. Bivi's durable steel hardware and move-friendly design made it the perfect choice for the RootsRated team with their bright future and growth ambition.
They have a lot of computer cables
Those suckers need wrangling, and the office dog tends to yank monitors off desks when he gets snagged in loose power cords. One of the best facets of the desks we chose for them is also one of the least visible. Each desk has a cable trough that integrates three features in one. First, it runs side to side, connecting the legs and serving as the backbone of the desk. Second, it provides a place for power cords to live — out of sight and out of the way. And third, it's all fitted out with integrated power strips, ensuring that the tangle of cords stays in the trough and doesn't have to spill out to find an outlet.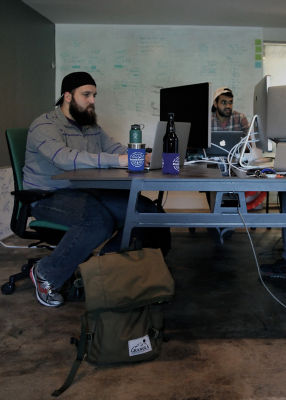 They like comfort
… but they don't want to have to mess with their chairs too much. Enter the Amia Chair. It's a great balance between simplicity and high-performance design. What it lacks in adjustment variety it makes up for in comfort; there's a reason it's the most popular task chair in Steelcase's stable of seating. The RootsRated team went with a woodsy green fabric that echoes their image as a company.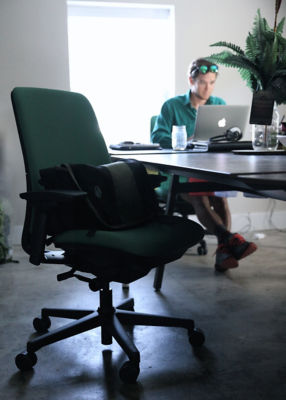 They have a ton of swag
From hats to mugs — and hundreds of energy bars — all the stuff they want to display is neatly organized on a set of Smart Shelves. The shelves fit with the modular, expandable, reconfigurable theme of the rest of the office's furniture. They can be assembled and disassembled without tools, resist moisture with an MDF laminate finish, and their minimalist design let the swag come to the forefront.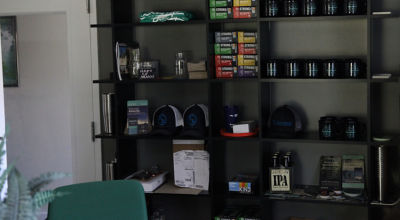 Now that RootsRated is installed in their newly swank office, they're finding that the dog no longer knocks monitors off the desk. They have the flexibility to sit at whatever desk they want, and they're looking forward to adding onto their desks as they grow. Best of all — it's a lot nicer to work in a modern, uncluttered office than the alternative.
And now, it's time for them to tell some more stories and go on a few more weekend trips!