As far as popular search terms go, it seems that folks just love them some clocks. Not only have they been a common item searched on our site, but people have been looking for them on The Google as well. When I heard about that, it occurred to me that we do have a whole bunch of cool clocks to offer. Here are a few, just to give your mind's eye a frame of reference.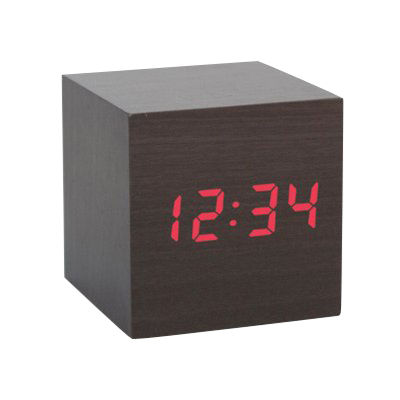 Clap On Alarm Cube Clock
First up, we have the Clap On Alarm Cube Clock. Complicated name; smoothly minimalist clock. This is the most fitting clock I can imagine to furnish a bare-bones boudoir. Not only is it hands-free operation, but it's also battery operated for an even cleaner appearance. It comes in two colors to make sure you can get the right look for your space.
Nelson Clocks
As we all know, George Nelson is world-renowned for his work as Herman Miller's Director of Design. But he may actually be even more well-known for his forays into the oft-neglected lighting and timekeeping categories. His Bubble Lamps have achieved iconic status. Everybody in SoHo has told their designers to figure out a way to incorporate them. But even more accessible and easily-implemented are his clocks, at least several of which deserve recognition here. Nelson had a genius for playfully touching that area of the human psyche that longs to return to childhood; his designs remind me that I did indeed, for a time, love bright colors and drawing shapes so I could color them in with crayon. We'll let his clocks have the final say for this post, because they speak so well.
I work under the official-sounding, completely made-up title of Marketing Content Specialist. That's simply because "Dude Who Writes Stuff" would make a lame title. Oh, and my co-workers don't let me make the Chewbacca noise in the office. For some reason it bothers them. But that's the first sound that comes to my mind when something deserves a reaction. I'll let you draw your own conclusions about me based on that.