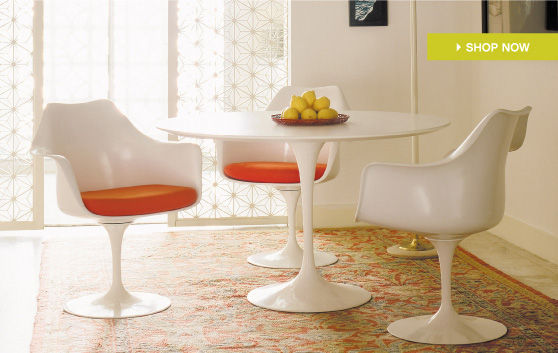 This year's Knoll Classics Sale has nearly died, kicked the bucket, bit the dust, or – to quote Hamlet – shuffled off this mortal coil. And, at the stroke of midnight, esta muerte. I'll bet you know where I'm going with this by now. It's like a broken record by this point: "Look, there's a sale! See how great it is? Wait … it's the last day! Hurry up if you want to save!"
Well, as is the case with just about anything that's in high demand amongst the style-savvy, Knoll furniture verges on the "high-priced" end of the economic spectrum. So that being the case, I don't mind putting it this way: "Hurry up, dangit! You're almost out of time to save some serious coin!" I'd want the same if I were in the market for a modern classic like the Saarinen Dining Table or the Barcelona Chair (in black Volo leather, naturally). How does 15% off plus free white glove shipping sound?
If you're thinking about the onset of spring (no, that's not just a cruel joke – those of you who are planners know what I'm talking about), the Bertoia Side Chair is simultaneously the most recognizable and most durable patio furniture short of an Adirondack chair. However the Bertoia Chair's got a leg up on your typical outdoor furniture in the style category. They don't throw around words like "classic" for nothing. Well, now's your last chance to save on the side chair before your friends start coming over for a whiff of your freshly cut lawn and a hamburger (or vegetarian sushi).
Check out all the rest of the Knoll Classics today at 15% off (with free white glove shipping) before we have to revert to full price at midnight!
Here's a complete list of the designers included in the Knoll Classics Sale:
Marcel Breuer
George Nakashima
Isamu Noguchi
Richard Schultz
Happy decorating!
I work under the official-sounding, completely made-up title of Marketing Content Specialist. That's simply because "Dude Who Writes Stuff" would make a lame title. Oh, and my co-workers don't let me make the Chewbacca noise in the office. For some reason it bothers them. But that's the first sound that comes to my mind when something deserves a reaction. I'll let you draw your own conclusions about me based on that.