"Black Friday" is synonymous with "sale," as is familiar to all of us by now. And at Smart Furniture, there's no exception to the rule. For our Black Friday sale, we've got all Herman Miller furniture for 15% off (I'm sure you've heard about that one by now). Besides that, Steelcase Chairs are on sale at 10% off starting on Black Friday, Humanscale products are on sale at 15% off, and Kartell Gifts are on sale for a wallet-pleasing 20% off. Oh, and lest I forget … our very own 1964 Sofa is on sale at 10% off!
I was curious about the origin of the term "Black Friday Sale." We all know that it describes the shopping day after Thanksgiving, but why "Black?" Where could I ever find out the answer to my question? Simple; I just needed to look to Wikipedia, the ever-fruitful fount of wisdom and (un)disputed facts.
It turns out that "Black Friday Sale" originally described the "heavy and disruptive pedestrian and vehicle traffic which would occur on the day after Thanksgiving" in Philadelphia. No surprise there. As my bandmate Dave from Philly would say, "Heavy and disruptive? Yep, that's Philly." That was around 1961, and by 1975 the entire nation was participating in the Black Friday sale's craziness.
So what kind of stuff is on tap at Smart Furniture's Black Friday sale? Let's look at three beautiful pieces of furniture.
1964 Sofa: 10% off for the Black Friday Sale
Our design, our ideal, our sofa. The 1964 Sofa is what we would put in our living rooms. It's the kind of sofa we'd want to sit on, and even the kind of sofa we'd want our kids to sit on. As someone said, it's "very Mad Men" … and we'd have to agree. Even though we weren't purposefully trying to make a Mad Men sofa, the 1964 Sofa captures its namesake era pretty darn well.
Eames Molded Plastic Chairs: 15% off
You want one, and you've wanted one ever since you saw it in that picture you've got in your "Design Ideas" folder. Eames Molded Plastic Chairs are true icons of design. They're instantly recognizable, easy to sit in comfortably, sleekly minimal in construction, and gracefully formed. My favorite is the Side Chair with Dowel Legs, but never fear: there are three types of base and two chair styles for you to choose from. Your kitchen table would look great with a few of these around it, wouldn't it?
Steelcase Leap Chair: 10% off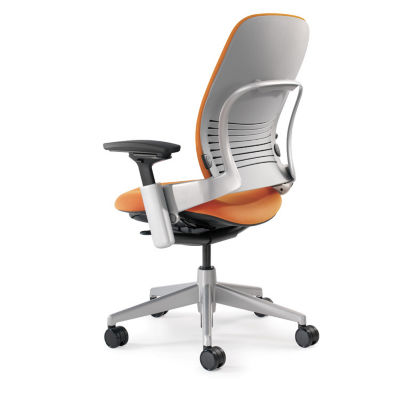 My officemate Matt sits in the Leap Chair, and Natalie's always stealing it. The short story is that it's comfortable and ergonomic like you've never felt before. Now's a great time to pick one up for yourself … or for the person you love the most. With nearly instant shipping (5 business days), you're guaranteed to get it as soon as you need it. With or without the optional headrest, the Leap Chair is one of the most comfortable chairs out there.
Ok, so now that you're excited about the Black Friday Sale and all the loot that's included, hit our site and see the rest of the crowd. There's a huge selection of sale items right now, from some of the best manufacturers in existence. Don't miss out!
I work under the official-sounding, completely made-up title of Marketing Content Specialist. That's simply because "Dude Who Writes Stuff" would make a lame title. Oh, and my co-workers don't let me make the Chewbacca noise in the office. For some reason it bothers them. But that's the first sound that comes to my mind when something deserves a reaction. I'll let you draw your own conclusions about me based on that.